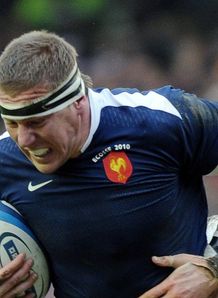 Related links
Teams
Also see
France kick-off their November campaign against Fiji in Nantes on Saturday but the critics are already having a field day.
Two years ago coach Marc Lièvremont was lambasted for chopping and changing his team at every turn.
Just when we thought Les Bleus would start building on the cohesion and continuity that took them to a Grand Slam earlier this year, Lièvremont has gone and named an experimental line-up featuring a number of new faces. There are no less than fourteen changes to the side that ended the Six Nations.
Two steps forward, one step back?
Less than a year out from the World Cup, when just about every other team is fine-tuning combinations in an otherwise settled group, Lièvremont is calling up new players and trying to teach others a lesson by dropping them. The coach is constantly complaining about the lack of preparation time he is allowed, but he isn't doing himself any favours with his selections.
France will win on Saturday, of that we're all fairly sure. But what will be gained in victory? How much credibility will the performances of the new players have? And will the advantages of the experiment outweigh the benefits of giving the 'first-choice team' time to gel ahead of difficult matches against Argentina and Australia?
"We wanted to put together a solid team with several objectives in mind," said Lièvremont.
"Firstly to win the match and if possible with style, secondly to blood younger players with more experienced ones to help them and finally to make sure that we do not overplay some players."
Against a Fiji side full of attacking potential in the backs, France will look to dominate up front, especially considering that heavy rain is expected in the West of France.
To that end, Les Bleus will line-up a front row with a grand total of six caps - that all came off the bench. Despite their inexperience, a lot is expected of the promising Jérome Schuster, Guilhem Guirado and Luc Ducalcon, who have a relatively young average age (for a Test front row) of 25.
Nine of Fiji's 30 squad members play in France (there are 44 in France's top two divisions!). Despite their familiarity with many of the individuals, the French have admitted that the Islanders' unpredictability will be the biggest threat.
With nothing to lose, the visitors - who have happy memories of Nantes having upset Wales there in the 2007 World Cup to advance to the quarter-finals - will play their usual brand of high-thrills rugby.
Don't expect too much cohesion however as the men from the Pacific only assembled this week and have hardly been able to train together due to the inclement weather in Nantes. So much has the rain perturbed their preparations, that their team announcement has been delayed until after the captain's run on Friday.
Back to the hosts, for whom the biggest intrigue probably lies in the half-back pairing.
After going through a number a combinations, Lièvremont finally seemed to settle on François Trinh-Duc and Morgan Parra. But the former is injured and Biarritz scrum-half Dimitri Yachvili is in the form of his life. The result: Yachvili will play inside club team-mate Damien Traille, who has already played at full-back and centre under the current coaching staff but has openly said he is focussing on the number ten berth for the rest of his career.
Another Biarritz stalwart, number eight Imanol Harinordoquy, is the only survivor from the team that beat England to seal the Grand Slam back in March. He captains the side while Thierry Dusautoir is given a rest.
As mentioned above. France are sure to win...but how much will they really gain?
Players to watch:
For France: The 28-year-old Fabrice Estebanez, a former Rugby League international, has been a squad member several times but this will be his first Test match appearance for his country. He's been through all kinds of trials and tribulations to get this far and he'll have to produce something very special to compete with France's first-choice inside centre, Yannick Jauzion.
For Fiji: The visitors' team has yet to be announced, but we're confident that two-time Top 14 leading try-scorer Napolioni Nalaga will get the nod. The last time Nalaga played against France, for the combined Pacific Islanders team, he was sent off. It's time to make amends. Fiji will look to get the ball out to the Clermont flyer as often as possible.
Head-to-head: Look out for plenty of big hits between Imanol Harinordoquy and Sale number eight Sisa Koyamaibole, who will both be tasked with doing lots of ball carrying in the heavy conditions underfoot.
Previous results:
2003: France won 61-18 in Brisbane
2001: France won 77-10 in Saint-Etienne
1999: France won 28-19 in Toulouse
1998: France won 34-9 in Suva
1991: France won 33-9 in Grenoble
1987: France won 31-16 in Auckland
1964: France won 21-3 in Colombes
Prediction: We can see only one result here. France by 25 points!
The teams:
France: 15 Jerome Porical, 14 Julien Arias, 13 David Marty, 12 Fabrice Estebanez, 11 Maxime Medard, 10 Damien Traille, 9 Dimitri Yachvili, 8 Imanol Harinordoquy (c), 7 Alexandre Lapandry, 6 Fulgence Ouedraogo, 5 Jerome Thion, 4 Romain Millo-Chluski, 3 Luc Ducalcon, 2 Guilhem Guirado, 1 Jerome Schuster
Replacements: 16 Benjamin Noirot, 17 Thomas Domingo, 18 Julien Pierre, 19 Sebastien Chabal, 20 Morgan Parra, 21 David Skrela, 22 Alexis Palisson, 23 Nicolas Mas.
Fiji (Probable):15 Norman Ligairi, 14 Sereli Nakelevuqi, 13 Albert Vulivuli, 12 Seru Rabeni, 11 Napolioni Nalaga, 10 Seremaia Baï, 9 Nemia Kenatale, 8 Sisa Koyamaibole, 7 Akapusi Qera, 6 Semisi Naevo, 5 Jone Qovu, 4 Wame Lewaravu, 3 Deacon Manu (cap), 2 Tuapati Talemaitoga, 1 Graham Dewes
Replacements: 16 Setefano Somoca, 17 Viliame Veikoso, 18 Sekonaia Kalou, 19 Malakai Ravulo, 20 Seveci Taka, 21 Josh Matavesi, 22 Gabriele Lovobalavu
Date: Saturday, November 13
Venue: Stade de la Beaujoire, Nantes
Weather: 14°C Heavy rain
Kick-off: 18:00 (17:00 GMT)
Referee: Andrew Small (England)
Assistant referees: Nigel Owens (Wales), James Jones (Wales)
Television match official: Carlo Damasco (Italy)