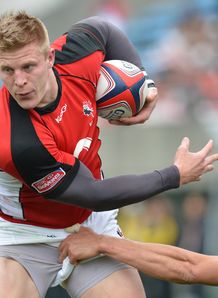 Related links
Teams
Also see
Canada are in pole position to claim the first Rugby World Cup 2015 direct qualification place after recording a 27-9 victory over USA in Charleston.
The Canadians now take a strong 18-point advantage over USA into the second match in Toronto on August 24 where the winner on aggregate will qualify as Americas One for rugby's showcase event.
The winner over two legs will also earn the right to be crowned North America's top rugby team and will join RWC 2011 runners-up France, Ireland, Italy and Europe Two in Pool D for England 2015.
The iconic Webb Ellis Cup accompanied IRB Vice Chairman Oregan Hoskins to Charleston for what was a compelling match played in front of a near-capacity audience.
The Canadians had won the previous five encounters, including May's 16-9 IRB Pacific Nations Cup encounter and again the visitors led from start to finish.
Scrum half Phil Mack set the tone with the first of three tries almost immediately from the kick-off and James Pritchard's kicking worked Canada into a 13-0 lead at the interval.
After the break, the Eagles upped the intensity with a Chris Wyles penalty, but tries from Harry Jones and DHT Van Der Merwe and good kicking from Pritchard made sure of the result for the visitors.
With USA finishing the stronger, two late Wyles penalties ensured hope for his side going into the second leg next week. A win by 19 points or more is now the target for Mike Tolkin's team.
The loser over the two legs can still qualify for RWC 2015, but they will need to do it the hard way, playing Uruguay home and away for the right to qualify as Americas 2.
Despite the result for the home side, Rugby continues to be the winner in the USA which continues to reach out to new players and fans in record numbers.
A near-full house in Carolina demonstrated continued growth in appeal throughout the States, where one million adults and children are participating in the country's fastest-growing team sport.
"This match was about much more than the result. It was a statement about Rugby in the USA and north America, its increasing popularity and ambitions," said Hoskins.
"This is a country with great potential and USA Rugby has achieved great progress in attracting unprecedented players and fans to fall in love with Rugby.
"The scene is set for an intriguing second leg in Toronto as USA will have to go for it and it will be fascinating to see who will be the first direct qualifier for England 2015."
The Webb Ellis Cup will now travel to Toronto where fans will be able to see the famous trophy at a number of public events ahead of the decisive match at the BMO Field.