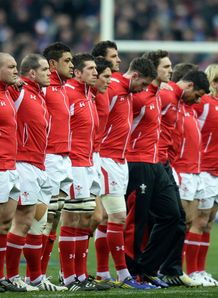 Related links
Teams
Wales have been handed a further boost after returning from Paris with a win as they moved up three positions to seventh in the IRB World Rankings.
Wales ended an eight-match losing streak with hard-fought 16-6 success over France in Paris.
The Welsh had slipped to tenth - equalling their lowest ever position since the rankings were introduced in 2003 - but a first win over Les Bleus in Paris has lifted the defending Six Nations champions above Italy, Samoa and Argentina.
France are now the only Six Nations side without a victory and they remain fifth in the rankings, albeit now 3.38 points behind England who are the leading northern hemisphere nation behind New Zealand, South Africa and Australia.
England went into round two with just a 0.51 cushion over France, but a 12-6 victory over Ireland in Dublin - their first win in the Irish capital since their last Grand Slam winning campaign in 2003 - and France's loss has increased that considerably. England now trail Australia by just under two points.
Ireland remain sixth despite the defeat in the pouring rain at the Aviva Stadium on Sunday, little more than a point behind France and above Wales as the Six Nations takes a break.
The other side on the climb in the rankings after a first victory of 2013 are Scotland, who jump two places to 10th on the back of a 34-10 defeat of Italy at Murrayfield. Italy slip two places to ninth after being unable to reproduce their heroics of a week earlier in Rome.
IRB World Rankings
Old position bracketed
1(1) New Zealand 90.08
2(2) South Africa 86.94
3(3) Australia 86.87
4(4) England 84.94
5(5) France 81.56
6(6) Ireland 80.29
7(10) Wales 79.19
8(7) Samoa 78.71
9(8) Argentina 78.71
10(12) Scotland 77.18
11(9) Italy 76.47
12(11) Tonga 76.10
13(13) Fiji 71.52
14(14) Canada 71.41
15(15) Japan 70.09
With thanks to the IRB