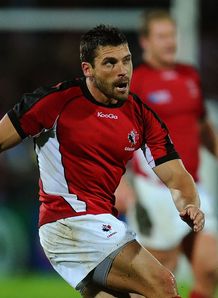 Related links
Teams
Full-back James Pritchard scored 21 points as Canada defeated Georgia 31-12 in a one-off Test in Burnaby, British Columbia on Saturday.
Pritchard registered one try, two conversions and four penalties in front of a crowd of 3,661 at Swangard Stadium.
Canada led 23-7 at half time thanks to 16 points from Australian- born Pritchard.
The game wrapped up a three-game Test series for Canada that also included a 28-25 win over the United States and a 26-15 loss to Italy.
Canada's other trys came from winger DTH van der Merwe at the five minute mark and winger Sean Duke five minutes from full time.
Georgia got on the scoreboard around the half-hour mark after their scrum continually dominated Canada near the goal line and hooker Mikheil Nariashvili pushed the ball over from one yard out.
Georgia got their second try 27 minutes into the second half when Shalva Sutiashvili pushed the ball over from five yards out off another big scrum.
Pritchard, not taking credit for his offensive effort, said this was a team effort, especially from the team's younger players.
"We needed them to step up and that's what they did. They put their hand up and that's what you want. You want the entire team to be competitive."
"Our defense was great, especially in the first half. If (Georgia) were able to get a try in the early going it might have been a different game but full credit to the guys, especially that one goal line stand which saved the game for us."
Canada are currently ranked 13th in IRB standings while Georgia are 15th.
The two teams met just twice previously, with Canada overpowering Georgia 42-10 in 2009 and Georgia defeating Canada 22-15 in 2010.
More to follow...
The scorers:
For Canada:
Tries: Vandermerwe, Pritchard, Duke
Cons: Pritchard 2
Pens: Pritchard 4
For Georgia:
Tries: Nariashvili, Sutiashvili
Con: Kvirikashvili
Canada:15 James Pritchard, 14 Sean Duke, 13 Conor Trainor, 12 Phil Mackenzie, 11 DTH Van der Merwe, 10 Matt Evans , 9 Edward Fairhurst, 8 Aaron Carpenter, 7 Nanyak Dala, 6 Tyler Ardron, 5 Tyler Hotson, 4 Jebb Sinclair, 3 Jason Marshall, 2 Andrew Tiedeman, 1 Tom Dolezel.
replacements:16 Mike Pletch, 17 Doug Woolridge, 18 Brett Beukeboom, 19 Jon Phelan, 20 Sean White, 21 Jeff Hassler, 22 Ciaran Hearn.
Georgia:15 Irakli Kiasashvili, 14 Irakli Machkhaneli, 13 David Kacharava, 12 Tedo Zibzibadze, 11 Lekso Gugava, 10 Merab Kvirikashvili,
9 Irakli Abuseridze, 8 Beka Bitsadze, 7 Giorgi Tkhilaishvili, 6 Gia Labadze, 5 Vakhtang Maisuradze, 4 Giorgi Chkhaidze, 3 David
Zirakashvili, 2 Revaz Belkania, 1 Mikheil Nariashvili.
Replacements: 16 Shalva Mamukashvili, 17 Levan Chilachava, 18 Shalva Sutiashvili, 19 Givi Berishvili, 20 Bidzina Samkharadze, 21 Lasha Malaguradze, 22 Alexander Todua