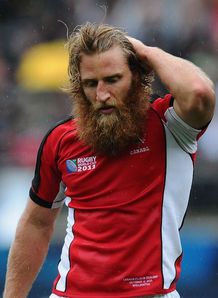 Related links
Teams
As we do after every major tournament, we take a look at the state of affairs in each of rugby's leading nations. Next up, Canada.
World Cup ambitions v results: Having failed to claim a win at a World Cup for the first time in their history in 2007, Canada certainly put in a much improved performance this time around.
Ranked below Tonga and Japan heading into the tournament, Canada punched above their weight by claiming a win over the Tongans and a draw against the Brave Blossoms.
While comprehensively hammered by the All Blacks, Canada gave France a good battle, keeping the eventual runners-up in check until the final quarter when three tries to the French stretched the score out to 46-19.
However, fourth place in the group means that the Canucks do not qualify automatically for the next World Cup and, as that was one of their goals, there will certainly be a feeling of disappointment. Captain Pat Riordan commented that if his men had shut the French out for ten more minutes or shown a tad more composure against the Japanese, the tournament would have had a very different complexion for them.
Backs DTH van der Merwe and Phil Mackenzie were stand-outs for the Canucks while up front Adam Kleeberger's beard wasn't the only aspect of the flanker that impressed.
The changing of the guard: Looking purely at age, as much as 80 per cent of the squad still could be in contention come RWC 2015. However, key men like Riordan, scrum-half Ed Fairhurst and full-back James Pritchard may not feature for too much longer.
Looking into the crystal ball: First and foremost, Canada need to retain the services of coach Kieran Crowley. The Kiwi has had a major impact and looks the right man to lead the team into the next World Cup.
Like many smaller nations, the Canadians primarily need two things two improve: more time together as a squad and additional games against top tear teams.