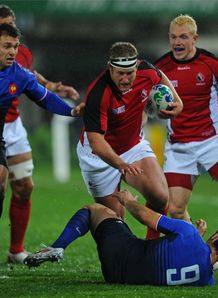 Related links
Teams
Ireland's first victory over Australia at a Rugby World Cup has been rewarded with a two-place rise to sixth in the latest IRB World Rankings, lifting them above Wales and Scotland.
The hard-fought 15-6 victory at Eden Park on Saturday sees the Irish regain two of the four places dropped after losing all four of their warm-up matches in August.
A bigger winning margin could have lifted Ireland to third but the defeat was enough to see Australia surrender second spot to South Africa.
Fiji climb one place to 14th as a result of Tonga's defeat to Canada earlier in the week. Tonga are the week's biggest fallers, dropping three places to 15th after the 25-20 loss.
Canada's victory lifts them to 11th from 14th.
Samoa's first ever loss to Wales in a Rugby World Cup saw them slip two places to 12th with Italy the other beneficiary despite not playing a match in the last seven days.
The other nation on the rise are USA following their 13-6 victory over Russia. The Eagles' first win on the Rugby World Cup stage since 2003 lifts them one place to 17th.
Russia were not as fortunate, their RWC debut defeat by USA resulting in a two-place fall to 21st with Namibia and Portugal the beneficiaries.
IRB World Rankings
1 New Zealand 90.55
2 South Africa 86.71
3 Australia 84.84
4 England 83.99
5 France 83.78
6 Ireland 82.50
7 Wales 80.73
8 Scotland 79.12
9 Argentina 77.30
10 Italy 73.88
11 Canada 73.74
12 Samoa 73.59
13 Japan 71.95
14 Fiji 71.01
15 Tonga 70.30
16 Georgia 70.00

17 USA 66.38
18 Romania 65.69
19 Namibia 61.24
20 Portugal 60.67
With thanks to the IRB