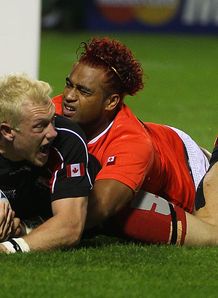 Related links
Teams
Canada captain Pat Riordan expressed his delight after his team's 25-20 win over Tonga in their Pool A clash in Whangarei on Wednesday.
The win was secured when left wing Phil Mackezie scored the second of his two tries in the 73rd minute and keeps their hopes alive of progressing from the pool.
"That was awesome," said Riordan.
"I'm so proud of the boys and the way they played and guts they showed. We knew it was a pretty strong wind there in the second half.
"At half-time, we knew we had achieved a couple of things and knew we had to change a couple of things but also knew that it was in our control and up to us to change it and we did.
"I hope it just shows what the Canadian boys can do," he added.
Meanwhile,Tonga skipper Finau Maka admitted that the better team won the match.
"I thought Canada came out and used the wind nicely but I thought in the second half we didn't play the way we wanted to play," said Maka.
"For us, we didn't quite play the way we wanted to play and at the end of the day they deserved the win. They played better," he added.
Tonga coach Isitola Maka said poor decision making cost them the match.
"Very, very disappointing," he said.
"The message went out to play the game in their half but we were still trying to run out of our own half. We just made some bad decisions."
Tonga's hopes of qualifying for the quarter-finals are all but gone as they have now lost their opening two matches and must still play Japan on September 21 and France on October 1.