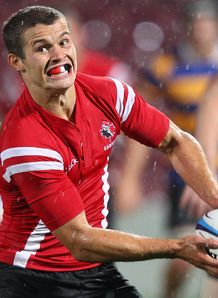 Related links
Teams
Eighteen-year-old Canada wing Taylor Paris is set to make history as the youngest ever player to appear at a Rugby World Cup.
Paris could break the record of Thretton Palamo of the USA, who was 19 years and eight days old when he came on as a substitute in a pool game against South Africa in 2007.
Paris turns 19 on October 6 and Canada will play all four of their Pool A matches against Tonga, France, Japan and New Zealand before then, starting against the Pacific Islanders on September 14.
The speedster from Barrie, Ontario, already has a record-breaking habit.
After taking up rugby at high school five years ago, he quickly jumped from Ontario and national U17 squads to become the youngest player to debut for the Canadian Sevens team, scoring a try in his first match as a 17-year-old at the Wellington Sevens event last year.
He then became the youngest player for the full Canadian team when he took the field against Belgium in November last year. In his second match, against Spain, he ran in two tries.
Despite that, Paris wasn't sure if he would be in New Zealand.
"I broke my hand about four months ago and so I wasn't sure how I would go. When I saw my name in the 50-man roster for the World Cup I was so excited," he said.
"So when Kieran (Crowley, the Canadian coach) told me that I had made the final squad, it was just so, so exciting. This is the absolute pinnacle," added Paris.
Despite being the youngest member at the World Cup, Paris has not asked senior team-mates what he should expect. Instead, he wants to learn for himself.
"I have been rooming with Adam Kleeberger, and I also speak to Ander Monro and Pat Riordan and they help me out, but I think there is only so much you can learn from other people telling you," explained Paris.
"I think the only real way to find out what these tournaments are like is just to experience it yourself."
With thanks to the IRB