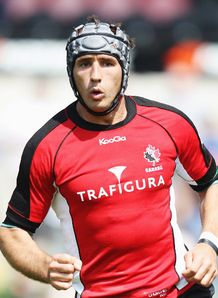 Related links
Teams
Veteran center Ryan Smith has been promoted to Canada's starting line-up for Friday's match against the Australian Barbarians.
Smith replaces Mike Scholz, who has a minor shoulder injury, in the only change to the Canada line-up that beat the United States 27-7 earlier this month.
Canada's coach Kieran Crowley said his team would use the game to gauge its performance ahead of the upcoming Rugby World Cup.
"It's not a Test match, but it's pretty close. It's going to be a really good measure for us," he said.
The match will mark 40th caps for captain Pat Riordan and Australian-born full-back James Pritchard.
Canada: 15 James Pritchard, 14 Ciaran Hearn, 13 DTH van der Merwe, 12 Ryan Smith, 11 Phil Mackenzie, 10 Ander Monro, 9 Ed Fairhurst, 8 Aaron Carpenter, 7 Chauncey O'Toole, 6 Adam Kleeberger, 5 Jamie Cudmore, 4 Jebb Sinclair, 3 Jason Marshall, 2 Pat Riordan (c), 1 Hubert Buydens.
Replacements: 16 Ryan Hamilton, 17 Scott Franklin, 18 Tyler Hotson, 19 Nanyak Dala, 20 Sean White, 21Conor Trainor, 22 Nathan Hirayama.