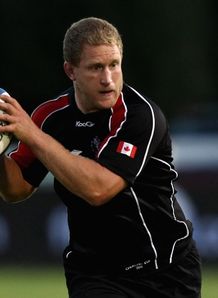 Related links
Teams
Also see
Canada have become the first team to officially confirm their 30-man squad for this year's Rugby World Cup.
Coach Kieran Crowley has announced a squad that contains a good mix of youth and experience, with 18-year-old Taylor Paris the youngest member of the outfit and 35-year-old Frank Walsh topping the charts at the other end of the scale.
The squad contains eleven players who did duty in the 2007 edition of the competition.
"It's been an exhaustive process that we really started three years ago," explained Crowley.
"We used everything at our disposal to get where we have and it's probably the first time since I've been here that we've been able to take Canada's best team.
"A lot of these players will be available for the next World Cup.
"Youth brings excitement, but you've also got to have that experience in the squad. We're pretty happy with the balance we've found."
The men from North America will turn out in Pool A with New Zealand, France, Japan and Tonga.
Canada squad:
Forwards: Ryan Hamilton, Pat Riordan (captain), Hubert Buydens, Scott Franklin, Jason Marshall, Andrew Tiedemann, Frank Walsh, Jamie Cudmore, Brian Erichsen, Tyler Hotson, Aaron Carpenter, Nanyak Dala, Adam Kleeberger, Jeremy Kyne, Chauncey O'Toole, Jebb Sinclair.
Backs: Ed Fairhurst, Jamie Mackenzie, Sean White, Nathan Hirayama, Ander Monro, Ryan Smith, Conor Trainor, Phil Mackenzie, Mike Scholz, DTH van der Merwe, Ciaran Hearn, Taylor Paris, Matt Evans, James Pritchard.