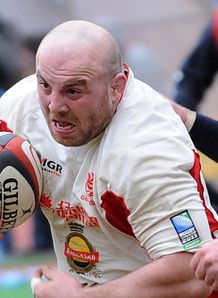 Related links
Teams
Canada suffered its first loss in three games on their current European tour after going down to Georgia 22-15 in Tbilisi.
It was just the second Test match between the two rugby nations.
Canada conceded a penalty and then a penalty try at the scrum to go down 10-0 in the first half before prop Jason Marshall touched down to make it 10-5.
Georgia responded with another forwards oriented try - mauling over from one metre to take the score to 15-5. James Pritchard hit for a penalty to make the half-time score 15-8.
In the second half the Georgians kept Canada under pressure - eventually scoring a try off a chip and chase that was gathered in right at the tryline - to give the homeside a 22-8 cushion with fifteen minutes to go.
With time running out Canada organized a ragged attack at the Lelos line - eventually seeing Aaron Carpenter across for a converted try and a 22-15 score.
In the final seconds of the game DTH van der Merwe made a dramatic line break but was stopped after a thirty metre run and that was the game.
Georgia, ranked 17th to Canada's 14 will surely enjoy such a huge home victory.
For Canada - it is time to regroup and head to Lisbon for the final match of the four test set - next weekend.