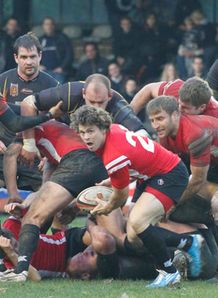 Related links
Teams
Canada beat Belgium 43-12 at the Stade Roi Baudouin on a wet day in Brussels to open their four-match European tour.
Certainly the conditions were heavy, with a steady drizzle and muddy pitch conspiring to slow quick movements down and put the onus on the set piece and control in the forwards to open the match.
This was in evidence as the front row combined for three first-half tries as hooker and captain Pat Riordan touched down twice, while prop Tom Dolezel got his first test try.
Canada coach Kieran Crowley said after the match that despite the final scoreline, the match had its moments.
"They scored to finish of the first half and then opened the second half with a score, so that put us under some pressure," he said.
"But in the last fifteen minutes we pulled away."
Indeed - having a fresh Ander Monro come onto the field after Nathan Hirayama's shoulder popped out of place, managed to generate 12 second half points as he scored a try, penalty and two conversions.
The game was the debut start for 18-year-old Taylor Paris, who usurps Gareth Rees' Test debut record of age 19, by nearly a year. The speedy wing did not make it onto the score sheet, but he did well for his first senior start.
Scrum-half Sean White also scored - and fly-half Nathan Hirayama had three of four conversions for six points for the 26-5 half-time lead. In the second half, wing Sean Duke and Monro scored a try each, with Monro converting his own score and also adding a penalty, in front of nearly 5,000 fans at Stade Roi Baudouin.
Hirayama will now be out for the remainder of the tour with the shoulder injury, while number eight Jeremy Kyne came off with a hamstring pull that will keep him off the pitch for around 10 days.
Canada moves to the warmer climes of Madrid for a first ever Test against Spain on Saturday.