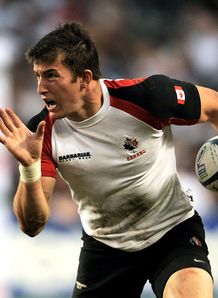 Related links
Teams
Canada have named five uncapped players including an 18-year-old winger in their squad to tour Europe next month.
Canada will play Tests against Belgium, Spain, Georgia and Portugal on successive Saturdays in November.
18-year-old Commonwealth Games sevens winger Tayor Paris joins fly-half Connor Braid, number eight Jeremy Kyne, and locks Mitch Gudgeon and Jon Phelan, all from the Canadian Rugby Championship, are the new faces in the squad.
Some of the squad will take part only in the first game against Belgium on November 6 because it was outside the international Test window. They'll make way for nine European-based professionals.
Coach Kieran Crowley said that the lack of top-level exposure was a concern for his team.
"You only get better and then able to make better decisions the better level of rugby you play in," he told AP
"Yes, some of our players are professionals overseas but they're in first division clubs which is a tier down from the real highest stuff, which is faster and more intense and working under a bit more pressure. So it is a concern moving forward.
"And particularly also with the local (domestic) guys, too. There's a lot of disparity in the levels they play each week. One week they can win by 60-odd points and the next week it's 30. And you get into bad habits doing that sort of thing.
"Players are not being put under the pressure they need to (be) for international rugby, so that is a concern. But we just need to work with it and just keep trying to make our systems better.''
Canada squad: Nick Blevins, Connor Braid, Aaron Carpenter, Tom Dolezel, Sean Duke, Brian Erichsen, Matt Evans, Mitch Gudgeon, Ryan Hamilton, Ciaran Hearn, Nathan Hirayama, Tyler Hotson, Josh Jackson, Adam Kleeberger, Jeremy Kyne, Jamie Mackenzie, Phil Mackenzie, Jason Marshall, Justin Mensah-Coker, Ander Monro, Chauncey O'Toole, Taylor Paris, Jon Phelan, Dan Pletch, James Pritchard, Pat Riordan (captain), Jebb Sinclair, Ryan Smith, Sean-Michael Stephen, Andrew Tiedemann, Kevin Tkachuk, DTH van der Merwe, Sean White.