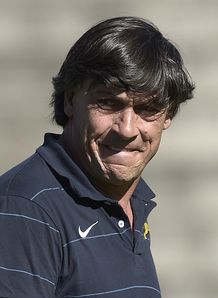 Related links
Teams
Also see
Argentina coach Daniel Hourcade was left to wonder what might have been following his team's agonisingly close defeat to South Africa in Salta.
The generally consensus amongst pundits and fans is that los Pumas were the better side on the day, but lacked the mental fortitude to shut the game out as the Springboks fought back from 26-13 down to win 33-31 thanks to two tries in final quarter.
It was another case of so near and yet so far for the Pumas as they remain winless after 14 matches in the Rugby Championship.
Hourcade agreed that Argentina had done the hard work required to claim their first win but needed to learn how to secure victories that were there for the taking.
"We failed to close the game out after playing at a higher level than the Springboks for much of the game," Hourcade told reporters after the game.
"I do not feel good - there is frustration because we did not handle the closing stages well.
"They were there for the knockout (blow) and we didn't deal it,"
"All we lacked was knowing how to win it.
"[South Africa] managed a win they fought for but we deserved the triumph more than anything because of the way we played," added Hourcade.
"We should have had the ball in the final 15 minutes. There was a real tiredness and we couldn't make changes because there were three players with problems.
"When the team set out to play, they show they can do it at this level. We've got to look at the glass half full, try to take the positive and analyse how to win the match."
The Pumas scored three tries for the first time in 14 Championship matches since their 2012 debut and this cheered the coach.
"We must attack if we are going to beat South Africa, New Zealand and Australia and I believe we are on the right track," he said.
A psychologist who specialises in sport told the Argentine daily La Nacion that it was the mental factor what separated the home side from South Africa.
"This is why it is so important to work on that aspect... know when that logical fear of 'not being able [handle the pressure] appears and produce individual and team mechanisms to allow us to carry on with a game plan that put us in a (strong) position," said German Diorio.