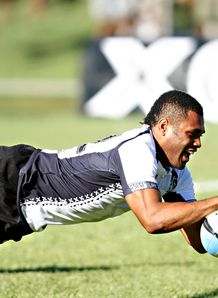 Fiji returned to winning ways on Saturday with a hard-fought 29-17 win over Tonga in the final match of the 2012 Pacific Nations Cup.
Fiji full-back Metuisela Talebula scored two tries and winger Maikeli Mocetadra grabbed a try on debut as the hosts clinched second place in the tournament.
Samoa had already won the four-nation competition with an unbeaten record before Fiji and Tonga clashed at Churchill Park. But the match was still vigorously contested.
Tonga fly-half Kurt Morath kicked three penalties in 10 minutes to give his team a 9-7 lead at half time and veteran winger Alaska Taufa scored a try to expand the lead to 14-7 in the third minute of the second half.
Fiji then rallied with tries to Seremaia Ureure, Talebula and Mocetadra to seal victory.
More to follow...
Fiji: 15 Metuisela Talebula, 14 Isimeli Koniferedi, 13 Wereniki Goneva, 12 Isake Katonibau, 11 Watisoni Votu, 10 Jonetai Ralulu, 9 Nikola Matawalu, 8 Kelepi Ketedromo, 7 Malakai Volau, 6 Josefa Domolailai, 5 Leone Nakarawa, 4 Apisai Naikatini, 3 Setefano Somoca, 2 Seremaia Naureure, 1 Graham Dewes.
Replacements: 16 Tuatpati Talemaitoga, 17 Jeremaia Yanuyanutawa, 18 Iliese Ratuva, 19 Apakuki Vuaviri, 20 Kelemedi Bola, 21 Benedito Koroi, 22 Maikeli Mocetadra.
Tonga: 15 Viliame Iongi, 14 Siale Piutau, 13 Mafileo Kefu, 12 Alipate Fatafehi, 11 Alaska Taufa, 10 Kurt Morath, 9 Taniela Moa (c), 8 Paula Kaho, 7 Sione Vaiomounga, 6 Steve Mafi, 5 Joe Tuineau, 4 Josh Afu, 3 Kisi Pulu, 2 Ilaisia Maasi, 1 Ofa Fainga'anuku.
Replacements: 16 Viliami Pola, 17 Sila Puafisi, 18 Lua Lokotui, 19 Vili Fainga'a, 20 Thomas Palu, 21 Sefa Vaka, 22 Edmond Paea.
Referee: Keith Brown (New Zealand)