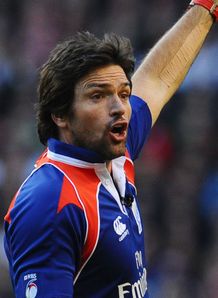 The IRB's new selection committee have announced the match officials to do duty during the June Test window.
Jaco Peyper is amongst the new faces chosen to join the IRB's top panel which has been reduced from ten to eight.
Former Munster full-back/wing John Lacey will referee in the Pacific Nations Cup.
Also new at this level are assistant referees Garratt Williamson of New Zealand, Stuart Berry of South Africa and James Bolabiu of Fiji.
27 May
England vs Barbarians at Twickenham, London
Referee: John Lacey (Ireland)
Assistant referees: tba (Ireland)
Television match official: tba (England)
29 May
Ireland vs Barbarians at Kingsholm, Gloucester
Referee: Jérôme Garces (France)
Assistant referees: tbs (France)
Television match official: tba (England)
2 June
Wales vs Barbarians at Millennium Stadium, Cardiff
Referee: Alain Rolland (Ireland)
Assistant referees: tba (Ireland)
Television match official: tbs (Wales)
5 June
Australia vs Scotland at Ausgrid Stadium, Newcastle, NSW
Referee: Jaco Peyper (South Africa)
Assistant referees: Craig Joubert (South Africa), Keith Brown (New Zealand)
Television match official: Vinny Munro (New Zealand)
Pacific Nations Cup
Fiji vs Japan
Referee: John Lacey (Ireland)
Assistant referees: Pascal Gauzere (France) , tba (Japan)
Samoa vs Tonga
Referee: Wayne Barnes (England)
Assistant referees: Pascal Gauzere (France) , tba (Japan)
9 June
New Zealand vs Ireland at Eden Park, Auckland
Referee: Nigel Owens (Wales)
Assistant referees: Jaco Peyper (South Africa), James Leckie (Australia)
Television match official: Matt Goddard (Australia)
Australia vs Wales at Suncorp Stadium
Referee: Craig Joubert (South Africa)
Assistant referees: Keith Brown (New Zealand), Garratt Williamson (New Zealand)
Television match official: Vinny Munro (New Zealand)
South Africa vs England at Kings Park, Durban
Referee: Steve Walsh (Australia)
Assistant referees: Alain Rolland (Ireland), Simon McDowell (Ireland)
Television match official: Iain Ramage (Scotland)
Argentina vs Italy
Referee: Jérôme Garces (France)
Assistant referees: George Clancy (Ireland),Christie du Preez (South Africa)
Television match official: Shaun Veldsman (South Africa)
Canada vs USA at Richardson Stadium, Kingston, Ontario
Referee: Marius Jonker (South Africa)
Assistant referees: Dave Pearson (England), Stuart Berry (South Africa)
10 June
Pacific Nations Cup
Fiji vs Samoa
Referee: Wayne Barnes (England)
Assistant referees: John Lacey (Ireland) , tba (Japan)
Japan vs Tonga
Referee: Pascal Gauzere (France)
Assistant referees: John Lacey (Ireland) , tba (Japan)
15 June
Canada vs Italy at BMO Field, Toronto, Ontario
Referee: Dave Pearson (England)
Assistant referees: Stuart Berry (South Africa), tba (USA)
16 June
New Zealand vs Ireland at Christchurch Stadium
Referee: Nigel Owens (Wales)
Assistant referees: Romain Poite (France), Pascal Gauzere (France)
Television match official: Matt Goddard (Australia)
Australia vs Wales at Etihad Stadium, Melbourne
Referee: Chris Pollock (New Zealand)
Assistant referees: Craig Joubert (South Africa), Garratt Williamson (New Zealand)
Television match official: Vinny Munro (New Zealand)
Fiji vs Scotland at Churchill Park, Lautoka
Referee: Jaco Peyper (South Africa)
Assistant referees: Ian Smith (Australia), Andrew Lees (Australia)
South Africa vs England at Coca Cola Park, Johannesburg
Referee: Alain Rolland (Ireland)
Assistant referees: Steve Walsh (Australia), Simon McDowell (Ireland)
Television match official: Iain Ramage (Scotland)
Argentina vs France
Referee: George Clancy (Ireland)
Assistant referees: Wayne Barnes (England), Christie du Preez (South Africa)
Television match official: Shaun Veldsman (South Africa)
USA vs Georgia at Denver, Colorado
Referee: Marius Jonker (South Africa)
Assistant referees: Jérôme Garces (France), tba (Canada)
17 June
Pacific Nations Cup
Samoa vs Japan
Referee: John Lacey (Ireland)
Assistant referees: Pascal Gauzere (France), tba (Japan)
23 June
New Zealand vs Ireland at Waikato Stadium, Hamilton
Referee: Romain Poite (France)
Assistant referees: Pascal Gauzere (France), James Leckie (Australia)
Television match official: Matt Goddard (Australia)
Australia vs Wales at Sydney Football Stadium
Referee: Craig Joubert (South Africa)
Assistant referees: Jaco Peyper (South Africa), Jonathon White (New Zealand)
Television match official: Vinny Munro (New Zealand)
South Africa vs England at Nelson Mandela Bay Stadium, Port Elizabeth
Referee: Steve Walsh (Australia)
Assistant referees: Nigel Owens (Wales), John Lacey (Ireland)
Television match official: Giulio De Santis (Italy)
Argentina vs France
Referee: George Clancy (Ireland)
Assistant referees: Wayne Barnes (England), Christie du Preez (South Africa)
Television match official: Shaun Veldsman (South Africa)
USA vs Italy at BBVA Compass Stadium, Houston
Referee: Jérôme Garces (France)
Assistant referees: Marius Jonker (South Africa), tba (Canada)
Canada vs Georgia at Swangard Stadium, Burnaby, BC
Referee: Dave Pearson (England)
Assistant referees: Stuart Berry (South Africa), tba (USA)
Samoa vs Scotland at Apia Park, Samoa
Referee: Chris Pollock (New Zealand)
Assistant referees: Ian Smith (Australia), Andrew Lees (Australia)
Pacific Nations Cup
Fiji vs Tonga
Referee: Keith Brown (New Zealand)
Assistant referees: Garratt Williamson (New Zealand), James Bolabiu (Fiji)