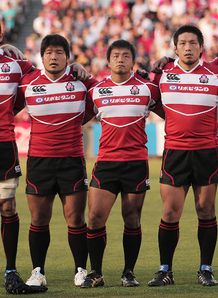 Related links
Also see
Japan captain Takashi Kikutani hailed his Pacific Nations Cup-winning side, saying the Asian champs proved they can compete with the top teams in the world.
The Brave Blossoms snatched the Pacific Nations Cup on Wednesday with a crucial 24-13 bonus-point win over a 12-man Fiji outfit in a tense final match, thanks to an injury-time try by Yuta Imamura.
"We confirmed through the match against Fiji that we can cope with the top teams in the world," Kikutani said.
"Everybody understands our game play that works against the top teams.
"We created many chances for a try from a scrum... We proved that we can play a Japanese style of rugby with a good tempo."
The victory comes as Kikutani and his team-mates begin final preparations for September's Rugby World Cup in New Zealand, with Japan drawn against the hosts as well as France, Tonga and Canada.
The number eight said he wanted to "surprise the world" by taking three wins in the group.
In a tournament that went down to the wire, Japan needed to beat Fiji and score four tries for the bonus point if they were to overtake Tonga on a countback in the Pacific Nations Cup.
Japanese media were in jubilant mood after the team did exactly what was required.
"A dramatic victory: A big stepping stone towards the World Cup in September with victory over powerhouse Fiji for the first time in 17 years," sports daily Sports Nippon said.
"We knew Fiji would be a physical team but in the first half we did not play to our game plan," said Japan coach John Kirwan, who has set a target for his players of two wins in the World Cup.
"We did not hit enough rucks.
"So I told the players at half time that we had to hang onto the ball longer, set up multiple rucks and create a good platform. This young bunch of players have worked very hard and deserved the win. I am very proud of them."
Japan play warm-up games against Italy and the United States before heading to New Zealand to begin their World Cup campaign.