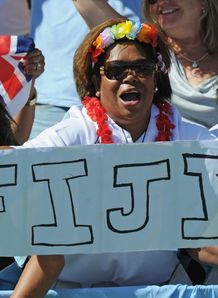 Fiji has dropped to a record-low 13th spot in the IRB world rankings after a recent loss to Tonga, ensuring Samoa is the top-ranked team in the Pacific.
Fiji plunged from 10th after losing 45-21 to Tonga at Lautoka in the Pacific Nations Cup last weekend. Tonga climbed from 16th to 12th place.
Samoa, which will play Fiji in the second round of the Pacific tournament on Saturday, rose one spot to 10th although it hasn't recently played a test.
New Zealand continues to hold top spot on the world rankings list released by the International Rugby Board on Tuesday. Australia is second, South Africa third and Ireland holds fourth place ahead of England, France and Wales.
IRB World rankings:
1 NEW ZEALAND 93.19
2 AUSTRALIA 87.45
3 SOUTH AFRICA 86.44
4 IRELAND 82.51
5 ENGLAND 82.48
6 FRANCE 82.06
7 WALES 79.55
8 ARGENTINA 78.97
9 SCOTLAND 77.35
10 SAMOA 75.58
11 ITALY 73.54
12 TONGA 71.63
13 FIJI 71.33
14 GEORGIA 70.30
15 JAPAN 69.89
16 CANADA 69.78
17 USA 66.78
18 ROMANIA 65.57
19 RUSSIA 61.93
20 NAMIBIA 61.43