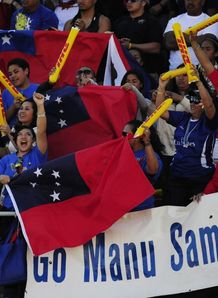 Samoa defeated a Reds 2nd XV 23-20 in a close Pacific Rugby Cup encounter at Ballymore on Wednesday.
The Reds 2nd XV worked hard throughout for their three tries to wingers Kimami Sitauti, Mitchell Felsman and Dom Shipperley, though it was not enough to overcome the physical Samoa lineup.
The Samoans enjoyed the wet conditions to overcome a 8-6 halftime deficit thanks to their forwards and determined defence.
The Reds 2nd XV scored the only try of the first 40 minutes when fly-half Jono Lance, a standout on the night, put in a pinpoint grubber kick for Sitauti, grounding the ball near the dead ball line.
Mitchell Felsman regathered his own kick ahead to score while Shipperley set-up a close finish when he added their final five-pointer with minutes remaining.
The Reds 2nd XV threw everything they had in the dying stages, breaking the line twice, but were denied by the desperate Samoan cover defence.
The Reds 2nd XV play their third and final match of the IRB Pacific Rugby Cup against Tonga on Monday, February 28 at Ballymore.
The scorers:
For Samoa:
Tries:Timusa, Otto
Cons:Warren, Alauni
Pens:Warren (3)
For Reds:
Tries:Situati, Felsman, Shipperley
Cons:Lance
Pens:Lance