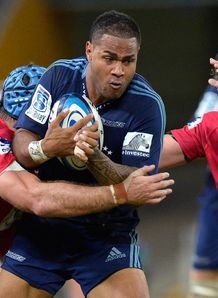 Related links
Teams
Blues winger Frank Halai will not be representing New Zealand in the Sevens at the Commonwealth Games later this year.
Halai represented the world champions on the circuit for years before joining the Blues in 2013, but has not been named in the training squad.
According to Newstalk ZB however Halai's mistake in not switching from his Tongan passport to a New Zealand one at the beginning of the year has ruled him out of being eligible for the tournament.
Halai admitted that the incident was his fault and that there was no one else to blame for the situation.
His focus will now be on playing for the Blues, for who he has regularly appeared this season in the 14 jersey.