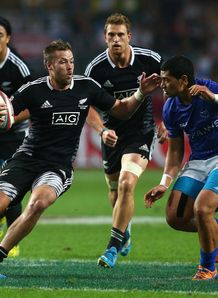 Australia were one of four sides to win all three of their pool matches to secure their place in the quarter finals of the Hong Kong Sevens.
Michael O'Connor, who is coaching in his final Hong Kong Sevens, saw his side beat the current Series leaders 10-7 with tries from Ed Jenkins and Greg Jeloudev to set up a quarter final with Canada who will compete in their fourth successive Cup competition.
Defending champions Fiji beat Kenya 43-5 to top Pool B, after Vatemo Ravouvou had earlier score 21 points in their 56-0 defeat of Sri Lanka, and will face USA who snuck through on points difference ahead of Samoa and Scotland as Pool D runners-up.
In Pool C, England's Dan Bibby scored 14 points in their win over Portugal before Dan Norton added two tries in the pool decider with Canada, a match they won 14-7, and they meet Neil Powell's South Africa.
New Zealand beat Samoa 26-7 and USA 17-7 on day two to book their progress with a 100% record and they will meet Wales in the quarter finals.
Sam Cross scored at the death to give Wales a win over Kenya, before they beat Sri Lanka to book their place in a first Cup quarter final since the second round in Dubai thanks to a hat-trick from Jason Harries.
The biggest cheer of the day, however, came as Mithun Hapugodage scored both of Sri Lanka's tries in their 47-12 defeat.
In the Bowl, Argentina will play Spain, France await Portugal, Sri Lanka meet Samoa as they still look for a first win as the non-core side competing in Hong Kong and Scotland face Kenya.
Quarter-Finals:
Fiji v USA, England v South Africa, New Zealand v Wales, Australia v Canada
Bowl Quarter-Finals:
Kenya v Scotland, Argentina v Spain, Samoa v Sri Lanka, France v Portugal
Results:
Pool A: Fiji 56-0 Sri Lanka, Kenya 7-10 Wales, Wales 47-12 Sri Lanka, Fiji 38-0 Kenya
Pool B: South Africa 22-14 Spain, Australia 26-0 France, France 14-10 Spain, South Africa 7-10 Australia
Pool C: England 21-7 Portugal, Canada 14-7 Argentina, Argentina 19-7 Portugal, England 14-12 Canada
Pool D: New Zealand 26-7 Samoa, USA 10-15 Scotland, Scotland 14-19 Samoa, New Zealand 17-7 USA
Reaction:
Australia coach Mick O'Connor: "We played with composure and these boys continue to get better the more they play. We play a similar style of rugby to South Africa and there's usually nothing in it."
England coach Simon Amor: "I'm pleased with three wins. It was a short turnaround from Tokyo so to win with the younger players and to scrap out that win was very pleasing."
Wales physio Dan Jones, on the short turnaround between their two final pool matches: "What you saw there was the boys digging in. I think there was about an hour recovery between matches so it was all about a quick recovery drink and keeping them warm before that match. The key now is to get some food on board, back to the hotel, ice baths, some treatment and plenty of rest."
---
Meanwhile in the World Series qualifiers, Japan, Italy, Russia and Hong Kong all advanced to the semi-final stages of the competition.
The two matches will be played on Sunday, with the winner qualifying as one of the core sides for next season's World Series.
Lote Tuqiri, cousin of the former Wallaby of the same name, scored a hat-trick in Japan's 38-7 quarter-final win over Tunisia, while Russia defeated Uruguay to advance.
Fabrizio Sepe scored the winning try for Italy in sudden death extra time as Andy Vilk's side put Zimbabwe out. They will meet the hosts after Hong Kong beat Chile 10-7.
World Series Qualifier Semi-Finals: Japan v Russia, Italy v Hong Kong
With thanks to the IRB