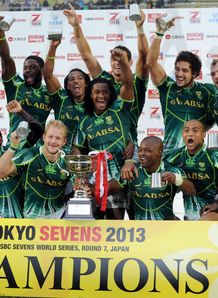 South Africa head into this weekend's Tokyo Sevens just two points behind Sevens World Series leaders New Zealand and, having lost out to the men in black last time out in Wellington, Neil Powell's side will be aiming to reclaim the lead at the Prince Chichibu Stadium.
Pool A: New Zealand, Canada, Wales, Portugal
Pool B: South Africa, Argentina, Kenya, Japan
Pool C: Fiji, Samoa, France, USA
Pool D: England, Australia, Scotland, Spain
Defending the title they won 12 months ago in Japan would give them back the lead heading for Hong Kong, but the Boks are taking things 'a game at a time' and have no wish to become too caught up in the title race.
"The team are really looking forward to their title defence this weekend in Tokyo," said coach Powell.
"We will fall back on the guys that were here last year, and especially the management, considering I have never played or coached here before.
"We mustn't get too caught up on the table and the points because we will put too much pressure on ourselves. It is all about the process and if we do the things well on the field the outcomes will look after themselves."
Fiji and England head the chasing pack
South Africa have reached the last four Cup finals this Series and their mantra all season has been consistency.
While many think the season boils down to a two-horse race, Powell admits Fiji and England could still upset the apple cart with big performances in the last four rounds.
"Fiji is a great team and England are playing some good rugby at the moment," added Powell. "I think any of us could (still) win the Series. If we or New Zealand slip up in one of the tournaments the other sides will have a chance, so it is important to tick that consistency box where we want to reach at least the semi finals and hopefully we can do that here and next week in Hong Kong."
Forbes: Taking nothing for granted
Arriving in Tokyo New Zealand is the form team, having conceded no points in their last five matches in Wellington and only 12 (against Fiji in their opening pool match) in all en route to their home title.
But captain DJ Forbes, who led his side to a 21-0 win over South Africa, their first over them this season, agrees that the race for the title is not as clear cut as some may think.
"With the lead you might predict a two horse race but Fiji could on their day easily win four tournaments in a row. But to do that they need to win these two to get back on the horse," said Forbes.
"We are not taking anything for granted. South Africa are hot on our heels, but it was pleasing to win at home and get that monkey off our back after they beat us in a couple of finals, so coming into this tournament there won't be this mindset and if we meet them again hopefully we can put in another performance like that."
With thanks to the IRB