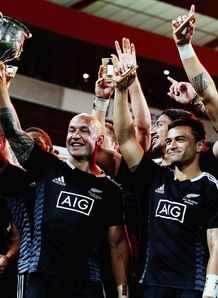 Related links
Also see
New Zealand beat South Africa 21-0 in the third successive final between the sides to claim the Wellington Sevens title at the Westpac Stadium on Saturday.
The Sevens All Blacks took revenge for defeat in the Las Vegas Sevens final to move back to the top over the World Series standings.
Sherwin Stowers (2) and Tim Mikkelson scored the tries in the final as Gordon Tietjens' side conceded just 12 points en route to their victory.
A jubilant Kiwi captain, DJ Forbes: "What a better place to beat South Africa after five straight losses, we really wanted that. For all the fans who turned out in this weather, we thank you. It was a real gutsy performance, we had a little chat from Jonah Lomu in the changing room and that really geed us up."
In the semi finals they beat defending Wellington Sevens champions England 31-0 at the Westpac Stadium to set up a third successive Cup final with South Africa.
Ben Lam, Scott Curry, Stowers, Bryce Heem and Akira Ioane all scored tries in an impressive display after Curry had earlier scored two tries in a 24-0 win in their quarter final match with with Canada.
Cecil Afrika scored his 100th career try in South Africa's semi final, with Sampie Mastriet also scoring in their 10-0 win against Ben Ryan's Fiji to reach their third successive Cup final.
The Blitzbokke also won 10-0 in their quarter final with Australia, Afrika scoring his 99th try and Werner Kok also powering over.
Third place: Fiji 14-7 England
Semi-finals:
South Africa 10 - 0 Fiji
England 0 - 31 New Zealand
Quarter-finals:
Fiji 29 - 7 Argentina
Australia 0 - 10 South Africa
Canada 0 - 24 New Zealand
England 21 - 5 Samoa
Australia snatch Plate
Plate Final:Australia 12-10 Canada
Plate semi-finals:
Australia 34 - 0 Argentina
Samoa 0 - 27 Canada
Australia came from 10-0 behind to beat Canada 12-10 in the final of the Plate, with captain Ed Jenkins scoring the decisive try and Cameron Clark kicking the all-important conversion as they collected 13 Series points.
Shannon Walker scored a first half hat-trick before captain Ed Jenkins scored twice in the second half to give Australia an impressive 34-0 win over Argentina to book their ticket to the final.
In the semi-finals Canada beat Samoa for a second successive round with John Moonlight and Conor Trainor both scoring braces in a 27-0 win.
Kenya win Bowl
Bowl final: Scotland 14 - 24 Kenya
Bowl semi-finals
Kenya 24 - 7 France
Wales 0 - 28 Scotland
Collins Injera scored twice as Kenya beat Scotland 24-14 and recorded three wins on day two at the Wellington Sevens to lift the Bowl.
Earlier they proved too strong for France in their semi final with Daniel Sikuta scoring two tries in their 24-7 win while Alex Glashan scored a hat-trick as Scotland booked their place in the Bowl final by beating Wales 28-0.
Earlier Mark Robertson also scored a hat-trick and Andrew Turnbull took his tournament to tally to seven as they beat Spain 38-12 in their quarter final to set up a match with Wales while Oscar Ouma and Collins Injera both scored twice in Kenya's 34-0 defeat of Portugal.
USA claim Shield
Spain 12 - 28 United States
Carlin Isles and co. collected a second successive Shield as they won 28-12 against Spain in the final, with Isles scoring two in the victory.
Earlier Isles scored two more tries in the USA's 31-10 defeat of Portugal in their semi final, while Spain booked their place in the Shield final by beating Tonga 17-12 thanks to a try from Pablo Fontes in sudden death extra time.
With thanks to the IRB