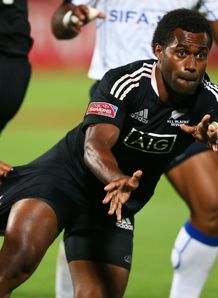 Influential playmaker Tomasi Cama has been included in a 14-man New Zealand squad for next weekend's Wellington Sevens tournament.
All Blacks Sevens coach Gordon Tietjens will whittle the squad down to 12 on Tuesday.
New Zealand will be without the services of flying wing Waisake Naholo who sustained a leg injury in last weekend's Las Vegas leg of the IRB world series, while forward Sam Dickson was not considered due to suspension.
The duo's absence will be negated by Cama's return from injury. He was sorely missed in Las Vegas, especially in the final which New Zealand lost 14-7 to South Africa.
David Raikuna is the only player to miss out on form from the squad that were in action in Las Vegas.
The New Zealand squad will assemble in Wellington on Saturday.
New Zealand Sevens squad: Tomasi Cama, Scott Curry, Ambrose Curtis, DJ Forbes, Bryce Heem, Gillies Kaka, Akira Ioane, Mark Jackman, Ben Lam, Tim Mikkelson, Matt Moulds, Lote Raikabula, Sherwin Stowers, George Tilsley.