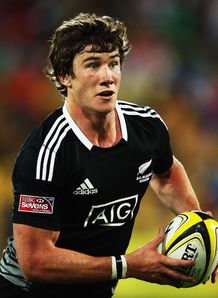 Related links
Teams
New Zealand Sevens head coach Gordon Tietjens has stated that they will not appeal a nine-match gouging ban handed to Sam Dickson.
Dickson was cited after making "reckless" contact with the face of Fiji player Jona Tuitoga, raking his hand across the player's eyes.
TV footage though suggested that the incident was unintentional, with the two players wrestling on the ground at the time.
Having reviewed the incident Tietjens said he felt Dickson has been given a rough deal, praising the player's character.
Dickson will now miss the next two tournaments in Tokyo and Wellington.
"I've reviewed the footage and had a look at it. I feel for the guy [Dickson]. He's never been the aggressor at any stage as a rugby player. He couldn't even recall the incident that's how low end it was quite honestly," Tietjens told Fairfax NZ News.
''It's disappointing for him because he got such a lengthy penalty of nine games, which effectively rules him out of Wellington.
''From what I saw he was on the ground trying to look after himself. The penalty's been given and we just have to punch on really.
''Quite clearly they state within the IRB that anything around the face if you are involved in an incident you can receive a suspension of 12 weeks onwards.
''I suppose when you look at the footage in slow motion his hand is around the face trying to free himself. I know there was never any intent from Sam Dickson because I know the boy that well.
''If they did reduce the sentence, they only get reduced a couple of matches and we'd only have him for a couple of matches in Wellington.'
''Sam was shocked when he found out he had to go up before the citing commissioner, but that's it and that's probably all I can comment on that to be honest.''