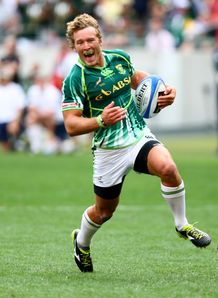 Related links
Also see
South Africa won all three of their matches at the Nelson Mandela Bay Sevens in Port Elizabeth, ending day one with a 100 percent record alongside Argentina, current Series leaders New Zealand and Fiji.
On an emotional day which saw all 16 teams join together on the pitch for the playing of the South Africa national anthem followed by a minute's silence to honour Nelson Mandela, the Blitzbokke rose to the occasion and impressively beat Canada, Spain and Kenya to set up a quarter final match with Portugal.
Portugal also impressed on day one, recording a shock 28-17 victory against Wales and a 33-17 win over the USA with David Matues scoring twice in both matches to reach their first Cup quarter finals of the season but second successive in Port Elizabeth.
Dan Norton moved into second in England's all-time leading points scorer list ahead of head coach Simon Amor in their win over Zimbabwe but his efforts were not enough and they miss out on the quarter finals for the first time after defeats to Samoa and Argentina, and await the auld enemy Scotland in the Bowl.
Quarter-finals:
Fiji v Samoa
New Zealand v Kenya
Argentina v France
South Africa v Portugal
Bowl quarter-finals:
Australia v Zimbabwe
Wales v Canada
England v Scotland
Spain v United States
Results:
Pool A:
Fiji 26-5 Australia
Scotland 21-33 France
Fiji 27-7 France
Scotland 19-31 Australia
Australia 12-19 France
Fiji 29-12 Scotland.
Pool B:
South Africa 24-7 Canada
Kenya 28-0 Spain
South Africa 38-0 Spain
Kenya 24-12 Canada
Canada 12-26 Spain
South Africa 27-7 Kenya
Pool C:
New Zealand 43-0 Portugal
Wales 26-10 United States
New Zealand 43-7 United States
Wales 17-28 Portugal
New Zealand 43-7 Wales
Portugal 33-17 United States
Pool D:
England 14-24 Samoa
Argentina 31-5 Zimbabwe
England 35-7 Zimbabwe
Argentina 26-19 Samoa
Samoa 43-0 Zimbabwe
England 19-21 Argentina
Reaction:
South Africa captain Kyle Brown attempts to sum up the emotional atmosphere at the Nelson Mandela Bay Stadium: "I would love to give you an explanation but my words wouldn't do it justice. It's a real honour and a privilege to be a South African today."
Neil Powell, South Africa's coach. "It's been an emotional weekend and the guys are really feeding off the atmosphere inside the stadium today. It is a privilege to play here this weekend."
A jubilant Portugal captain, Pedro Leal, after beating Wales: "We played really well. We weren't really there against New Zealand earlier. We trained well in the week and now we want the Cup quarter-finals like we made last year."
Fiji coach Ben Ryan, following a 26-5 defeat of Australia: "I thought we we a bit sluggish, maybe a little casual at the start. I've told the boys there's a target on our back (after last week's victory). They were probably shocked at the amount of physical exercise I've made them do of late but I wanted them ready for this weekend."
Wales captain Lee Williams after beating the USA: "We got a little complacent after kick-off after we were three tries up. But we dug deep and came up with the victory. It's great to have James (Davies) back after missing the last two matches in Dubai, and you can see why in that match."
With thanks to the IRB