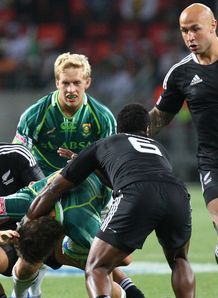 Related links
Also see
We take a closer look at the teams that are participating in the Nelson Mandela Bay Sevens tournament in Port Elizabeth this weekend.
The tournament is the fourth round of the 2013/14 HSBC Sevens World Series and Pool matches kick off on Saturday, with the knockout games taking place on Sunday.
Pool A: Fiji, Scotland, Australia and France
Fiji - Series ranking: second (Champions in Dubai)
After their Cup-winning performance at the Dubai Sevens, Fiji have named an unchanged squad of 12 for the Nelson Mandela Bay SA Sevens, round three of the Sevens World Series.
Samisoni Viriviri was named Dubai's player of the tournament, while fans also voted Semi Kunatani as the #Sevensrookie of the tournament through interacting with the IRB's Twitter and Facebook pages.
Player to watch: Giant forward Pio Tuwai has some of the best handling skills in rugby.
Scotland - Series ranking: ninth (Cup quarter-finalists in Dubai)
Scotland have called up 20-year-old back Mark Bennett, who was involved in the recent November internationals. He is an injury replacement for James Johnstone and is joined in Stephen Gemmell's squad by Fijian-born Joseva Nayacavou, who earned his first cap at the first round of the Series on Australia's Gold Coast and now replaces the injured forward Chris Dean.
Of the players currently still playing the sport, captain Colin Gregor is the second-highest point scorer all-time in Sevens with 974. He sits ninth in the all-time list and needs 26 points in PE to become the eighth man to reach 1,000 points.
Player to watch: Lee Jones has pace and watch for Scott Riddell's workrate in the forward pack.
Australia - Series ranking: fifth (Bowl winners in Dubai)
On paper coach Michael O'Connor had one of his strongest squads in Dubai but the Australians struggled for consistency. They let a strong lead slip in their opening match against Scotland and failed to reach the Cup quarter-finals. They recovered well on day two, going unbeaten on the second day en route to the Bowl.
An injury to Lewis Holland has forced O'Connor to make one change, Sam Myers coming in for his debut.
Player to watch: Wallaby Luke Morahan has obvious x-factor, as does Shannon Walker, but O'Connor will be asking for a big shift up front from Sean McMahon, Jesse Parahi and Ed Jenkins.
France - Series ranking: 12th (Shield winners in Dubai)
Frederic Pomarel's experienced side suffered a disappointing weekend in Dubai, where they lost their first four matches before winning their last two to finish on a high as Shield winners.
Last year they reached the Cup final in Port Elizabeth, so will be looking for far more this weekend.
They look like they will make two changes to the Dubai squad, Julien Saubade and Vincent Martin replaced by Stephen Parez and Steeve Barry, who were involved in the invitational tournament in Dubai.
Player to watch: Still no Terry Bourahoua but Julien Candelon continues to defy his age with timeless performances and Paul Albaladejo is a playmaker out of the top drawer.
Pool B: South Africa, Kenya, Canada and Spain
South Africa - Series ranking: third (Cup runners-up in Dubai)
Springbok Sevens head coach Neil Powell has called Steven Hunt and debutant Albertus "Kwagga" Smith into his squad in Port Elizabeth to replace the injured Stephan Dippenaar and Jamba Ulengo.
Dippenaar was ruled out of action with a hamstring injury in Dubai, while Ulengo (foot) also misses their home tournament.
Franke Horne (leg) passed a late fitness test to make Powell's squad, as they look to build on their Cup Final appearance last weekend.
Hunt and Smith were all in action in Dubai where they helped the South African Sevens Academy team defend their Dubai Invitational title for a fourth successive time.
Player to watch: Cecil Afrika is still a menace but increasingly South Africa work off Branco du Preez and Justin Geduld.
Kenya - Series ranking: sixth (Cup quarter-finalists in Dubai)
Former Springbok Sevens coach Paul Treu has also been forced to make changes to his Kenya side.
Philip Wamae and Michael Wanjala are unavailable due to injury, while Patrice Agunda must sit exams; their places in the Kenya team are taken by Davis Chenge, Billy Odhiambo and Dan Sikuta.
Experienced flyer Collins Injera led from the front with a strong performance in Dubai, making the fans' Dream Team. He now sits fourth on the all-time series try-scoring list, with 165.
Player to watch: Captain Andrew Amonde leads magnificently and will be pleased to welcome back Billy Odhiambo as a foil for Collins Injera.
Canada - Series ranking: 11th (Bowl semi-finalists in Dubai)
Canada took the eventual Cup champions Fiji to the wire in their pool clash in Dubai and also had scrum-half Phil Mack in the fans' Dream Team.
Ahead of the Port Elizabeth tournament, coach Geraint John has been forced into two changes through injury, Pat Kay and debutant Duncan Maguire coming in to replace Connor Braid and Lucas Hammond.
Player to watch: Even after all these years playmaker Phil Mack is still Canada's heartbeat. Captain John Moonlight is part of a strong forward pack.
Spain - Series ranking: 15th (Shield runners-up in Dubai)
Coach Jesus Delgado names an unchanged squad from the 12 that competed in Dubai, featuring the recall of some of the country's best players in Pablo Feijoo, Ignacio Martin and Jaike Carter.
He will be looking for more from his players, though, who currently occupy that automatic relegation place, ranked 15th of the current core teams.
Player to watch: Big wing Ignacio Martin is a great player to have back in the side.
Pool C: New Zealand, Wales, Portugal and USA
New Zealand - Series ranking: first (third in Dubai)
New Zealand coach Gordon Tietjens names an unchanged squad from the 12 that finished third in Dubai, recovering from a heaviest ever Sevens defeat, 044, at the hands of Fiji in the Cup semi, to beat England in the third/fourth play-off.
Tietjens' squad - now comprising full-time Sevens athletes - is the most experienced in the tournament with 293 events between them, although four players - captain DJ Forbes, Lote Raikabula, Tim Mikkelson and Tomasi Cama - account for 218 of those 'caps'.
The New Zealanders are the defending series and Nelson Mandela Bay Sevens champions.
Player to watch: The list is long with New Zealand. Gillies Kaka was relatively quiet on return from injury in Dubai, so expect fireworks from him and fellow stepper Joe Webber.
Wales - Series ranking: sixth (Plate runners-up in Dubai)
With only eight players fit to contest the Plate Final against Argentina in Dubai, Wales were down to their bare bones but now start again with a full compliment of 12 after flying in two replacements.
Captain Adam Thomas and Adam Field are unable to compete in Port Elizabeth, replaced by debutant Rhodri Davies and Will Price, who comes in for his 10th series tournament.
Player to watch: Loose forward James Davies has proved his fitness following an outstanding performance in Dubai that saw him named in the Dream Team.
Portugal - Series ranking: 13th (Bowl runners-up in Dubai)
Coach Pedro Netto Fernandes makes one change to the side that lost 12-17 to Australia in the Dubai Bowl Final, just a week after many of the players had been involved in Test match rugby in Lisbon against Canada.
Frederico Oliveira picked up a leg injury during the Dubai tournament and is replaced by debutant Rafael Simoes.
Player to watch: Little captain Pedro 'Popcorn' Leal and veteran back David Mateus.
USA - Series ranking: 14th (Shield semi-finalists in Dubai)
USA Sevens head coach Matt Hawkins will be asking more of the same 12 players who finished with five losses in Dubai.
Captain Nick Edwards currently sits five tries short of 50 with 45 to his name.
Player to watch: Zack Test has been the USA's outstanding player for a few seasons.
.Pool D: England, Argentina, Samoa and Zimbabwe
England - Series ranking: fourth (fourth in Dubai)
England are one of six sides in Port Elizabeth who are unchanged from Dubai, where they beat Wales to make the Cup semis but lost there to eventual runners-up, South Africa.
Player to watch: Mike Ellery is still a relative newcomer but put in a strong performance last weekend for coach Simon Amor in the forwards as well as at centre and wing.
Argentina - Series ranking: eighth (Plate winners in Dubai)
Like England, Argentina's squad is unchanged from Dubai where they put in a much stronger performance for coach, Santiago Gomez Cora.
They will be looking to emulate the kind of form that took them to the Cup semis here last year.
Player to watch: Diego Palma gives them lots of pace and Axel Muller is an interesting athlete, having come from American football and represented Argentina as a decathlete.
Samoa - Series ranking: ninth (Bowl semi-finalists in Dubai)
Viliamu Punivalu was disappointed with his side's performance in Dubai, where their Cup defence faltered on Day One with losses to South Africa and Argentina.
He makes one change to the team for Port Elizabeth, the injured Misioka Timoteo replaced by debutant, Fomai Ah Ki.
Player to watch: Lio Lolo is a strong player for Samoa, while captain Reupena Levasa and Alatasi Tupou are crucial to this new side.
Zimbabwe - Series ranking: N/A (Did not compete in Dubai)
Liam Middleton is back with the Zimbabwe team after a stint coaching in England but long-time manager Bruce Hobson will be missed as he steps away from the side after over a decade of service, as well former captain Jacques Leitao and Wesley Mbanje, who have also stepped down.
Player to watch: The Cheetahs name a squad with five debutants as they undergo a period of change but still have dangerous pacemen in the likes of Gardener Nechironga and Tafadzwa Chitokwindo.
Day One schedule - Saturday, December 7:
(Local kick-off times - GMT is minus two hours)
Match 1: New Zealand v Portugal, 11.00
Match 2: Wales v United States, 11.22
Match 3: England v Samoa, 11.44
Match 4: Argentina v Zimbabwe, 12.06
Match 5: Fiji v Australia, 12.28
Match 6: Scotland v France, 12.50
Match 7: South Africa v Canada, 13.12
Match 8: Kenya v Spain, 13.34
Match 9: New Zealand v United States, 14.06
Match 10: Wales v Portugal, 14.28
Match 11: England v Zimbabwe, 14.50
Match 12: Argentina v Samoa, 15.12
Match 13: Fiji v France, 15.34
Match 14: Scotland v Australia, 15.56
Match 15: South Africa v Spain, 16.18
Match 16: Kenya v Canada, 16.40
Match 17: Portugal v United States, 17.14
Match 18: New Zealand v Wales, 17.36
Match 19: Samoa v Zimbabwe, 17.58
Match 20: England v Argentina, 18.20
Match 21: Australia v France, 18.52
Match 22: Fiji v Scotland, 19.14
Match 23: Canada v Spain, 19.36
Match 24: South Africa v Kenya, 19.58
With thanks to the IRB