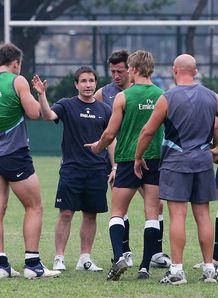 Successful Kenya Sevens coach Mike Friday has resigned from his role with the national side on Wednesday.
Friday said in a statement that the players, who reached the semi-finals of the recent IRB Rugby World Cup Sevens in Moscow had been a credit to their country and have coped remarkably well despite financial and technical constraints of the Kenya Rugby Union.
The Englishman, a former national sevens team captain and coach, however clearly alluded to Kenya's insufficient funding and dissatisfaction with some directors of the KRU whose past spats with the coach were always in the public domain.
Friday wrote to the KRU chairman, Mwangi Muthee, saying that "with heart," he and Chris Brown, the New Zealander strength and body conditioning coach of the Kenya team, "assure you that we have not taken this decision lightly.
"They [Kenya Sevens team] are a fantastic group of players and it has been a privilege for both Chris and me to have worked with them all. They are precious assets that need to be given the support and direction by Kenyan Rugby in order to maximise their potential," said Friday.
"With [especially] yourself [Chairman] and Gabi [Gabriel Ouko, Treasurer and Former Director of national squads] involved they are very fortunate.
"The interference from certain individuals have made it impossible for Chris and I to run a professional performance programme. Our view is that they have continually sabotaged and compromised our strategy and planning; this has not been in the best interests of Kenya 7s Rugby."
Friday said among the contributing factors leading to his decision was, leading up to the Sevens Rugby World Cup, contentious issues and false promises he had to endure throughout the season, "particularly with [a named KRU director] which are well documented."
"It is clear to me that, throughout the RWC, and subsequently, actions taken by certain individuals in key positions have undermined the squad's strategy, preparation and ultimately performance," added Friday.
"Planning and running a truly professional performance programme is impossible to do with the constant compromises, interference and sabotage that occur.
"I will not outline specifics around the poor professional behaviour towards me personally, but clearly this just adds further to my concerns.
"It is a matter of regret and disappointment that we have felt it necessary to take this decision.
"In accordance with my contract under clause 14, I will be exercising my right to terminate my agreement with a one month's notice. Accordingly, KRU can determine whether they wish me to work the month of August in accordance with the contract, or pay me the equivalent of one month's honorarium."
"Mike is a thoroughly professional man and his decision is based on a sound argument. In order for the team to achieve all its goals, his programme required a total budget of Sh80 million annually and indeed that would have been worth every cent," said KRU chairman Mwangi Muthee.
"Unfortunately, our total cash sponsorship for the Sevens' team was Sh40 million annually and in order to close the deficit gap we had to forage for money from other vital programmes.
"However, we had kept our part of the bargain in his contract which still had a long time to run. There is no gainsaying that Mike lifted the country beyond wildest dreams and we shall miss him."