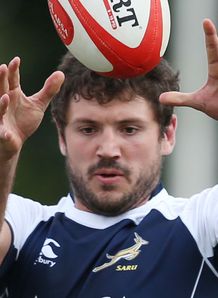 Related links
Teams
Also see
Ryan Kankowski's future in South African rugby may be up in the air, but for the moment, the Sharks man is concentrating on turning out for the national Sevens team.
At a time at which he may have imagined preparing to face Italy in Durban on Saturday with the Springboks, he instead finds himself in a chilly Stellenbosch training with Paul Treu's Sevens squad ahead of the IRB Sevens World Cup later this month.
Kankowski has fallen out of favour with Sharks coach John Plumtree this season, with the Kiwi declaring after the loose forward was left out of his side's squad to tour New Zealand and Australia that neither he nor the player himself were happy with where his game was.
The 27-year-old last played for the Sharks in mid-April and as such it's no surprise that a chance to turn out for the Blitzbokke at the Sevens World Cup, a format he hasn't played in since 2006, is a welcome one.
"I haven't had the opportunity to play in a World Cup so getting a call from Paul (Treu) was definitely something I had planned on one day, I didn't know if I was ever going to get the chance to do it so hopefully I can just keep up with these guys!" he told SARugby.com.
"Hopefully I can bring what I bring and play my part and have some fun. It's just great to be back and there is an awesome vibe in the team; they're mates, it's one big family.
Reflecting back on his previous Sevens experiences, Kankowski admits a lot had changed - about him and the game.
"It was about 2006 and I've picked up a bit of weight since then!" he joked. "But we had a training session the other day and it was great so it's so far so good, there is definitely a lot more running."
With the Sevens World Series growing bigger and bigger every year, and Sevens set to make its debut at the 2016 Olympics, the Springbok admits that the increase in level of professionalism is impossible to miss.
"When I left you didn't have an institute like [the Stellenbosch Academy of Sport, the Sevens team's base]. You would have a camp for a week in Durban or a week in Pretoria, so it's good to see that the country and SARU have got behind them," he explained.
"They've won plenty of tournaments so they deserve what they're getting, so it's great to come and be a part of something so special. I think they're expecting quite a bit so hopefully I can come here and play my part."
While Kankowski doesn't have too much Sevens experience to call on, as a 20-cap Springbok with seven years of Super Rugby experience behind him, the 193 cm forward is hopeful he can bring a calm head to proceedings.
"It was a long time ago so I am coming in here as a new player but I'll just do what I can," he said. "If I can bring my experience and help the younger guys then that's great, I want to help out where I can. I think they're expecting quite a bit so hopefully I can come here and play my part."
Kankowski's exploits with the Springboks have taken him from Wellington to Sydney to Toulouse to Cardiff and all the way back to Witbank, but Russia is one place he never thought the game would take him.
"No, I never thought I would play there!" he laughed. "Obviously that's something different, going to Moscow to play a Sevens tournament, so obviously looking forward to it and hopefully we'll do well."
Julia Harris