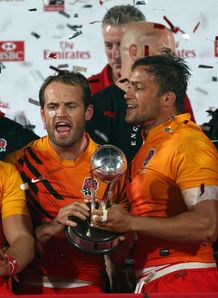 England will bid for an unprecedented hat-trick of titles at the Dubai leg of the Sevens World Series which gets under way on Friday.
The Ben Ryan-coached team - boosted by a large expatriate support base - have triumphed in their last two outings in Dubai, but face a tricky Pool C that sees them drawn with South Africa, Samoa and Portugal.
"We are desperate to make sure we do everything we possibly can to make it three titles in a row," said Ryan.
"We've got an excellent record in Dubai, better than any other team in the world in the last five years, and now we need to use that to our advantage. We want to retain our trophy and the lads just love playing here."
England underperformed in the opening leg of the series on the Gold Coast in Australia, a tournament won by perennial favourites Fiji.
The islanders have been handed a kind draw alongside Kenya, Spain and Scotland in Pool A.
New Zealand, the most successful side on the circuit, were pipped in the Gold Coast final by Fiji, and veteran coach Gordon Tietjens said he believed the competition was pretty open.
"Dubai is a climate we like playing in and a tournament we want to win again," said Tietjens.
"England have won it over the past couple of years, but there are six or seven teams that could win it.
"Dubai is my favourite tournament out of all of them, it's a great tournament to win."
"The rugby at international level is the highest it can be and sevens rugby has become a lot stronger in the second fields over the past three or four years, he added.
"It has made it more interesting and the number of supporters has grown significantly and I believe that the support of the spectators in Dubai is one of the main reasons behind that."
Pool A: Fiji, Kenya, Spain, Scotland
Pool B: New Zealand, Argentina, Wales, Russia
Pool C: South Africa, Samoa, England, Portugal
Pool D: France, Australia, Canada, USA