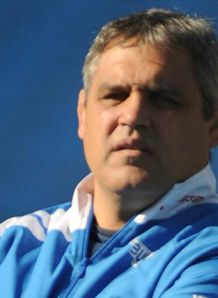 Blue Bulls coach Frans Ludeke has handed centre Burger Odendaal his Currie Cup debut in their opener at the Golden Lions on Saturday.
The 21-year-old starts alongside JJ Engelbrecht.
Ludeke has also included Deon Stegmann and Jacques-Louis Potgieter, with Nicolaas Janse van Rensburg and Jesse Kriel, both 20, on the bench.
"We are all very excited about this campaign, but could not have asked for a tougher start in away matches against the Golden Lions and Western Province," boss Ludeke told thebulls.co.za.
"This will mean that we will have to be at our best from the first minute of the first match. The Lions are a formidable outfit, especially at home. We will be focussing on our own game though. We know what worked for us in the past to be successful and we will have to execute that to the best of our ability."
Blue Bulls: 15 Jurgen Visser, 14 Akona Ndungane, 13 JJ Engelbrecht, 12 Burger Odendaal, 11 Sampie Mastriet, 10 Jacques-Louis Potgieter, 9 Piet van Zyl, 8 Jacques Engelbrecht, 7 Jono Ross, 6 Deon Stegmann (captain), 5 Grant Hattingh, 4 Paul Willemse, 3 Werner Kruger, 2 Callie Visagie, 1 Dean Greyling.
Replacements: 16 Bongi Mbonambi, 17 Marcel van der Merwe, 18 Nicolaas Janse van Rensburg, 19 Wiaan Liebenberg, 20 Rudy Paige, 21 Tony Jantjies, 22 Jesse Kriel.
Date: Saturday, August 9
Kick-off: 17:05 local (16:05 BST)
Venue: Ellis Park, Johannesburg
Referee: Jaco van Heerden
Assistant referees: Stuart Berry, Ben Crouse
Television match official: Johan Greeff
Assessor: Keith Hendricks