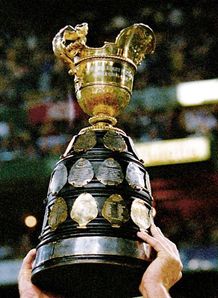 On the eve of the new Currie Cup season, Planet Rugby has taken an in-depth look at the competition and the teams going for glory in 2014.
One of the oldest tournaments in the world, the Currie Cup is the breeding ground of numerous Springboks and the stepping stone to greater heights, domestically and abroad, for most of South Africa's professionals.
The Sharks are the defending champions, after beating Western Province 33-19 in the final at Newlands in Cape Town.
The tournament has a rich history with the first matches played in 1889, but it only became officially known as the Currie Cup in 1892. Over the years, there has only been seven teams that have won the tournament - Western Province, Northern Transvaal/Blue Bulls, Transvaal/Golden Lions, Natal/Sharks, Free State/Free State Cheetahs, Griquas and Border.
After recent years, where six unions played in the tournament's Premier Division, this season will see a change in the competition's format, with eight teams now doing battle for the coveted trophy.
The start of the eight-team Currie Cup tournament - contested by the Sharks, Western Province, EP Kings, Free State Cheetahs, Golden Lions, Blue Bulls, Pumas and Griquas - is scheduled for this weekend. It will run until the final weekend of October, when the final will take place.
The eight teams will be divided into two sections on 2013 table positions: Section X (Western Province, Golden Lions, Blue Bulls, EP Kings) and Section Y (Sharks, Free State, Pumas, Griquas). The teams will play home and away within their sections followed by a single cross-conference round before semi-finals and final.
---
The teams:
Sharks: The Durban-based side was established in 1890 and waited a century before winning their first Currie Cup title in 1990. They will be the side everyone wants to beat after they finished the 2013 season as champions. In recent years they have produced several Springboks and, after losing in the semi-finals of this year's Super Rugby tournament, will be keen to bounce back by defending their Currie Cup title.
Best finish: Champions (Seven times)
Captain: With first-choice skipper Bismarck du Plessis away on Springbok duty, the Sharks have entrusted Tera Mtembu with the captaincy armband for the Currie Cup. A rangy loose forward, Mtembu has impressed in previous Currie Cup and Super Rugby campaigns. As the first black player to skipper the Sharks there will be extra pressure on him to succeed but any captain is expected to deal with pressure and Mtembu's shoulders are broad enough to deal that.
Coach: After guiding the side to tournament success in 2013, Brad MacLeod-Henderson is back in charge for this Currie Cup campaign.
Last year's performance: Champions
This year's prospects: The Sharks will once again be amongst the front runners in the tournament and should be a contender for honours. Despite losing several of their first-choice players to the Springboks, they have plenty of depth and should make the semi-finals and eventually the final.
---
Western Province: They are usually amongst the favourites for the title and have won the Currie Cup more times than any other union, finishing as runners-up last year and winning the trophy in 2012 after an 11-year drought. They have also produced a plethora of Springboks over the years and have a large support base across South Africa.
Best finish: Champions (32 times including four shared)
Captain: After missing out on Springbok selection for the Rugby Championship and with last year's captain Deon Fourie leaving WP to play for Lyon, experienced centre Juan de Jongh will lead the Cape Town-based side's troops in 2014. De Jongh is an interesting choice as captain. He strikes one as the type of player who will lead by example as he is, after all, one of his side's best players. After playing alongside Springbok captain Jean de Villiers for several seasons now, he will be determined to follow in his midfield partner's footsteps by making a success of the leadership role.
Coach: As one of the most experienced coaches in the competition, Allistair Coetzee will be keen to repeat his effort of 2012, when he guided WP to success in this tournament. The 2007 World Cup winning assistant coach will, however, be under pressure to succeed as there has already been calls, in some quarters, for his axing after the Stormers' poor overall performance in Super Rugby.
Last year's performance: Runners-up
This year's prospects: As 2012's winners and last year's runners-up, Western Province are out for revenge this year. With Springboks like de Jongh, Jaco Taute, Pat Cilliers and Tiaan Liebenberg in their ranks, and several other players with Super Rugby experience also in their squad, WP will be expected to challenge for honours. As they found last season, anything less than a win in the final will be regarded as failure by their supporters.
---
Free State Cheetahs: They won the tournament for the first time in 1976 and waited nearly 30 years before winning the trophy again in 2005. The Cheetahs are renowned for their running style of play and seldom finish outside the top four places in the competition.
Best finish: Champions (Four times including one shared)
Captain: The versatile Torsten van Jaarsveld - he can play in the back row or hooker - was a surprise choice as captain as he only moved to the Cheetahs in 2013. He replaces Boom Prinsloo, who captained the men from Bloemfontein in 2013. A player similar in style to Heinrich Brüssow, Van Jaarsveld leads a young and inexperienced side who will be without six first-choice players, who are on Springbok duty for the Rugby Championship.
Coach: The Cheetahs have a new man at the helm in Rory Duncan. A former Cheetahs lock, Duncan cut his teeth as a coach with the Cheetahs' U21 and Vodacom Cup teams, before making the step up to the Currie Cup as Naka Drotské 's replacement. Drotské has been sent to the UK to learn about the latest developments around coaching structures and rugby matters ahead of next year's Super Rugby campaign.
Last year's performance: Semi-finalists (lost to eventual winners, the Sharks).
This year's prospects: With a new captain and coach, the Cheetahs could be the unknown factor in this year's competition. Losing numerous players to the Springboks will also make things difficult and reaching the play-offs could be a bridge too far in 2014.
---
Golden Lions: Another union with a rich heritage, they went through some lows a couple of seasons ago but have bounced back and are once again amongst the contenders for honours.
Best finish: Champions (10 times including one shared)
Captain: Like in Super Rugby, back-row forward Warren Whiteley will skipper the men from Johannesburg. Whiteley is an experienced and exciting player, who has captained the Lions for several seasons now. He is an inspirational leader, who leads from the front, and, despite being on the light side, always puts his body on the line for the men from Johannesburg's cause.
Coach: Former Springbok lock Johan Ackermann has punched above his weight as the man in charge at the Lions, after the side were controversially relegated from Super Rugby in 2013. Despite missing out on that tournament, Ackermann did a brilliant rescue job with the Golden Lions and guided them to knockout rounds in last year's competition.
Last year's performance: Semi-finalists (lost to runners-up, Western Province)
This year's prospects: The Lions will be amongst the contenders again this year and - as proven last year and in Super Rugby this year - they will be difficult to beat at their Ellis Park home. If they can step up a gear and beat some of the bigger teams in away games, they will reach the semi-finals again.
---
Blue Bulls: Undoubtedly the strongest union in South Africa since the advent to professionalism. The Blue Bulls, however, have battled in recent years and failed to reach the play-offs in 2013. The are renowned for their conservative game-plan which is based on forward dominance and solid tactical kicking.
Best finish: Champions (23 times including four shared)
Coach: The Pretoria-based side's mentor Frans Ludeke is another one of the more experienced coaches in the competition. Like Coetzee at Western Province, he will also be under tremendous pressure to win the title. Last year's poor - effort when they failed to reach the semi-finals - is still fresh in the memories of this union's fans and Ludeke will be determined to restore some pride to famous light blue jersey.
Captain: Springbok tearaway Deon Stegmann is the Bulls' new captain after taking over from fellow loose forward Jono Ross. Stegmann is over his injury worries and, as one of the more experienced members in Ludeke's squad, his elevation to the captaincy makes sense as he understands the Blue Bulls' culture. A hard working openside flanker, Stegmann will set a good example to the younger players.
Last year's performance: Fifth from six teams
This year's prospects: Rugby is the be all and end all to most Blue Bulls fans and winning the Currie Cup remains high on supporters' wish list. The Bulls will stick to their traditional style which has brought them success in the past. They will be amongst the contenders for play-offs but will do well if they reach the final.
---
Griquas: One of the smaller unions in the competition, who usually battle to make the play-offs. They have, however, produced several quality players in recent years, who have gone on to reach higher honours in the game.
Best finish: Champions (three times)
Captain: Hooker Ryno Barnes is the regular understudy to Adriaan Strauss as the Cheetahs' number two in Super Rugby and will once again lead the men from Kimberley. Barnes is an experienced campaigner, whose leadership will be valuable in a side who will be one of the tournament's underdogs.
Coach: Free State Cheetahs assistant coach Hawies Fourie is in his first season in charge and replaces Pote Fourie under whose guidance Griquas finished last on the table in 2013. Fourie is an innovative coach, who played a huge role in the development of exciting back-line players like Willie le roux and Johan Goosen at Super Rugby level with the Cheetahs. Being in charge of a team will be a new experience but Fourie has the ability to succeed at this level.
Last year's performance: Sixth from six teams
This year's prospects: With two new teams added to the competition, Griquas will fancy their chances of avoiding the wooden spoon. That will not be an easy task, however, and don't be surprised if they have to fight for survival once again this year.
---
Pumas: Another of the smaller unions, who return to the big time after winning the second tier of the Currie Cup last year.
Best finish: Fifth (also won Currie Cup First Division in 2005, 2009 and 2012)
Captain: Flanker Corne Steenkamp is a Pumas veteran who has played almost 150 matches for the Nelspruit-based side. A former member of the Leicester Tigers youth system, Steenkamp returned to South Africa after his spell with the Premiership side and made his Pumas debut in 2005.
Coach: Pumas mentor Jimmy Stonehouse hails from the Blue Bulls coaching structures and coached the men from Pretoria's Craven Week team on several occasions during the last decade. One of Stonehouse's most memorable achievements as a coach came in 2010 when his Pumas team claimed a shock 22-21 victory over the Blue Bulls in Pretoria. Stonehouse also guided the Pumas to Currie Cup Division one success in 2009 and last year. He was also at the helm when the Pumas clinched their spot in the Premier Division after beating Griquas in the play-offs.
Last year's performance: Won Division One title
This year's prospects: Keeping their head above water will be the Pumas' main aim. This will not be easy, however, and they will do well if they avoid relegation.
---
Eastern Province Kings: Return to the top flight after years in the wilderness. The Kings are a side who have battled recently and only came into the competition via a South Africa Rugby Union boardroom decision. All eyes will be on them as they have much to prove.
Best finish: Third (three times, also won Currie Cup First Division in 2012)
Captain: Veteran back-row and former Springbok Luke Watson is over his injury woes and will lead the men from Port Elizabeth this season. Watson, at his best, is one of the best loose forwards in the country and as a captain has superb motivational skills. He impressed as a leader during spells with Western Province and at Bath in the Premiership. With the Kings being the underdogs in this season's competition he could be doing plenty of motivating to his team-mates this year.
Coach: The Kings might be underdogs but with former All Blacks fly-half Carlos Spencer as their coach they will be sure to entertain this year. Spencer is a firm believer in the 15-man game and although he is in his first job as a head coach with the Kings, he will not deviate from this style of play. Spencer has previously been an assistant coach at the Lions and Sharks at Super Rugby level.
Last year's performance: Second, Division One
This year's prospects: The Kings will have to dig deep to compete with the big boys. They will struggle away from home but could shock a few teams in Port Elizabeth - where they can count on huge crowds at the their Nelson Mandela Bay Stadium home against the big unions. They are the favourites to finish last in the tournament.
By David Skippers