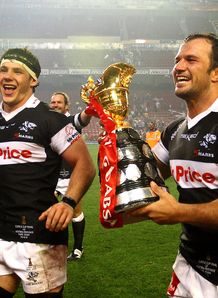 Related links
Also see
The South African Rugby Union (SARU) has reportedly asked teams not to pick contracted Springboks at any stage during this season's Currie Cup.
Previously, Springboks returned to play for their provinces towards the end of the tournament, but that is unlikely to happen this year.
The Sharks CEO John Smit confirmed the matter, saying the Durban-based union, who are the competition's defending champions, will have to adapt to the situation.
"It was decided upon that all contracted Boks will play no part in the Currie Cup, which puts us at a bit of a disadvantage," Smit told The Sharks' official website.
"It also depends on who gets selected for the Rugby Championship because they will then be unavailable for the duration of that competition as well.
"There are two ways of looking at it though: you can be negative and worry about how it affects your chances to win the Currie Cup, or you can be excited about creating Springboks and testing the depth of the squad. We have some exciting youngsters and there will be a few fresh faces."
Despite facing the prospect of going into the business end of the tournament without their best players, Smit remained upbeat.
"We have loads of talent," he added.
"There are youngsters who haven't even turned 19 yet who could have a role to play in the Currie Cup. There's a huge amount of excitement about what this Currie Cup could offer in that regard.
"The challenge in the first five or six weeks of the Currie Cup is that we will face other teams who have had two months to prepare, so we need to make sure we bat cleverly in the beginning."