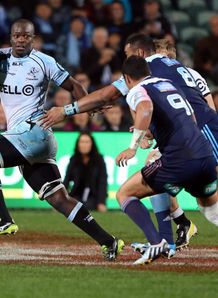 Related links
Teams
The Sharks have announced the appointment of loose-forward Tera Mtembu as captain of the Sharks for Currie Cup 2014.
Mtembu made his debut for the Sharks in 2012 in both the Super Rugby and the Currie Cup tournaments.
"Tera is a talented player and I have great faith in his ability," said Sharks director of rugby Jake White.
"My hope is that he embraces this leadership role and gains valuable experience as the tournament progresses, which will assist us in grooming him to take the next step into becoming a more consistent Super Rugby player, who can eventually stake a claim for international honours."
"I am delighted that Tera has been handed the captaincy for the Absa Currie Cup tournament. I believe that he has the talent and perseverance to become a great player," said Sharks CEO John Smit.
"He becomes the 72nd player to be given the honour of captaining a Sharks team and more impressively for him, the first black player to do so.
"This is an incredible achievement for a gifted player who has many years of rugby ahead of him and this responsibility will certainly motivate him to strive for greater heights in his career."
"It is a great honour and privilege to be entrusted with the responsibility of leading a world-renowned team such as the Sharks," said Mtembu.
"I thank our CEO, Director of Rugby and the rest of our coaching staff for believing in me and for affording me this opportunity.
"I look forward to the challenge ahead and know that I will have the support and backing of our coaching staff, younger players and the senior group of players in our squad. As a team we will work together to ensure that we reach the goals we set-out for ourselves in this year's competition."