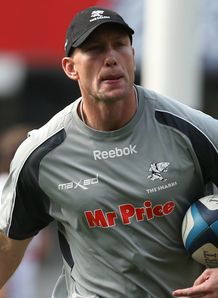 Related links
Teams
The Sharks have announced the appointment of Brad Macleod-Henderson as Head Coach for the 2014 Currie Cup tournament.
Macleod-Henderson will be ably assisted by Sean Everitt and Paul Anthony.
This decision taken by director of rugby Jake White comes at a time when the Sharks lie at the crest of the Super Rugby log, the Vodacom Cup side are hosting a quarter-final and with the announcement of five players having been selected to represent South Africa at the U20 World Cup.
With players being rewarded for their hard work with good results and national colours Jake White wants to take a step back from coaching the senior side and allow for progression and evolution amongst a young vibrant coaching staff at The Sharks.
During this period White will mentor the future of the Sharks by spending most of his time with both the U19 and U21 teams throughout the Currie Cup.
The coaching line-up for both junior teams will be Deon Kayser as Head Coach of the U21's to be assisted by Albert van den Berg. Both of these former Springboks now currently coach the Sharks XV side.
The U19 team will be headed by James Fleming and he will be assisted by both Butch James and Ryan Strudwick.