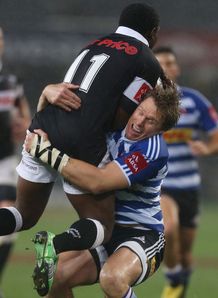 Related links
Also see
South Africa's leading provinces, Western Province and the Sharks, resume their intense rivalry in the Currie Cup Final in Cape Town on Saturday.
It's the second successive year these sides meet in the final but unlike last year, when the Sharks went into the match as overwhelming favourites, WP are the side to beat as they are yet to lose a match in 2013.
After last year's triumph, WP have shown great determination throughout their campaign and if they defend their title, will complete the Currie Cup unbeaten for the first time since 1936.
Coach Allister Coetzee acknowledged his side are under pressure to accomplish that feat but is confident they can achieve it.
"There is already great excitement in the city and the players can feel the emotion," he said.
"We need to stay focused on getting the job done.
"We're up against one of the best Sharks teams, one which is Springbok-laden. In my book there are no favourites for the game because the teams are so evenly matched."
WP hold a psychological advantage over the Durban-based outfit after beating them twice during the league phase of the competition.
In both those matches the men from the Cape were dominant on defence - as in most fixtures throughout their campaign - but Coetzee believes his side's improvement on attack will carry them through to victory.
"We've made big strides on attack and the way we've competed at the breakdown collisions," he added.
"This pack of ours has become dominant and more accurate. They have made some unbelievable decisions when looking at the playing options.
"Another area in which we've improved is the way we attack with turn-over possession.
"The way we are playing now is as a result of the changes we made in the last few games of the Super Rugby season and that strategy has given us more thrust on attack."
Sharks forwards coach Brad Macleod-Henderson, who started his role alongside back-line mentor Sean Everitt, midway through The Sharks' Super Rugby campaign is proud of the progress the side has made in the Currie Cup and is determined for the side to finish the campaign on a high.
"I'm very proud, we've come a long way this season," he said.
"It's been fantastic to see some new faces in the team, showing what they can do at this level.
"And at the same time, we've had some older heads showing that they're ever-green, continuing to produce the goods.
"The season is not over yet, Saturday is the big one and we need to make sure we go down there and get the right result.
"We said at the start of the campaign that it was our goal to develop players and to win the Currie Cup.
"We're pretty much going nicely on both fronts, we're really looking forward to Saturday and going down there and giving it our best shot."
An area which the visitors battled to gain the ascendancy in during their previous match against WP - in Durban on October 12 - was the scrums where the Cape side's front row of Steven Kitshoff, Scarra Ntubeni and Pat Cilliers got the better of the Sharks' experienced Springbok trio of Beast Mtawarira and Bismarck and Jannie du Plessis.
Physicality plays a huge part of the South African rugby player's psyche and the side who dominates in this department, especially in the forward exchanges, will have half the battle won.
But although the battle up front will be key, both sides possess game-breakers in their back-line which could determine this game's outcome.
For WP, Springbok skipper Jean de Villiers is playing the best rugby of his career while fly-half Demetri Catrakilis accurate kicking boot, especially his uncanny ability to land drop goals at crucial moments, will boost the home side's chances of winning. Add to that the proven match-winning ability of Gio Aplon and Cheslin Kolbe which will give WP's supporters plenty of confidence.
For the Sharks, Patrick Lambie showed in the semi-final victory over the Cheetahs that he is still one of the best match-winners in South Africa. Another player who will have a huge responsibility for the visitors is Francois Steyn, whose midfield battle with Damian de Allende could be one of the highlights of the final.
The Sharks also have an ace up their sleeve in full-back SP Marais, who has impressed since joining from the Kings at the start of the tournament. If put into space Marais will wreak havoc, especially on the counter-attack.
The final is also a special occasion for referee Jonathan Kaplan as it will be his last first-class assignment.
Players to watch:
For Western Province: After delivering a man-of-the-match performance against the Golden Lions in the semi-final last weekend, Gio Aplon will be a marked man in the final. Aplon has been a stalwart for WP throughout the tournament and has hardly put a foot wrong throughout the champions' campaign. The diminutive speedster has impressed with his positional play and on defence but it is on attack where he is most dangerous. He scored a superb individual try last weekend and another top class showing could earn him a recall to the Springbok squad for their end-of-year tour to Europe.
For Sharks: Although Patrick Lambie is vital to the Sharks' cause, the Durban-based outfit received a tremendous boost when Bismarck du Plessis was cleared of a stamping offence earlier this week. Widely regarded as the world's best hooker, Du Plessis' inclusion significantly improves the Sharks' chances of winning. His physicality and mobility are among his greatest strengths but he also shines at doing his core duties - scrummaging and line-out throwing - which will be crucial in the final.
Head-to-head: The battle between the fly-halves will play a huge part in determining this game's result. WP's number 10 Demetri Catrakilis has got the better of Sharks pivot Pat Lambie in their two previous encounters - last year's final and the second league match this year. This should make Lambie more determined to do well as the winner of this battle will also play a huge role in securing victory for their respective sides.
Previous results (2013):
October 12: Western Province won 17-13 in Durban
September 7: Western Province won 25-19 in Cape Town
Previous finals between the Sharks and Western Province:
2012: Western Province 25 Sharks 18 in Durban
2010: Sharks 30 Western Province 10 in Durban
2001: Western Province 29 Sharks 24 in Cape Town
2000: Western Province 25 Sharks 15 in Durban
1995: Sharks 25 Western Province 17 in Durban
Prediction: This is going to be a much closer match than last year's final. The Sharks have their strongest possible team but home ground advantage and experience in key positions will see Western Province wining by three points!
The teams:
Western Province: 15 Gio Aplon, 14 Gerhard van den Heever, 13 Jean de Villiers, 12 Damian de Allende, 11 Cheslin Kolbe, 10 Demetri Catrakilis, 9 Louis Schreuder, 8 Duane Vermeulen, 7 Siya Kolisi, 6 Deon Fourie (captain), 5 De Kock Steenkamp, 4 Eben Etzebeth, 3 Pat Cilliers, 2 Scarra Ntubeni, 1 Steven Kitshoff.
Replacements: 16 Frans Malherbe, 17 Brok Harris, 18 Michael Rhodes, 19 Schalk Burger, 20 Nic Groom, 21 Kurt Coleman, 22 Juan de Jongh.
Sharks: 15 SP Marais, 14 Odwa Ndungane, 13 Louis Ludik, 12 Francois Steyn, 11 Lwazi Mvovo, 10 Patrick Lambie, 9 Charl McLeod, 8 Keegan Daniel (c), 7 Willem Alberts, 6 Marcell Coetzee, 5 Pieter-Steph du Toit, 4 Peet Marais, 3 Jannie du Plessis, 2 Bismarck du Plessis, 1 Tendai Mtawarira
Replacements: 16 Kyle Cooper, 17 Wiehahn Herbst, 18 Stephan Lewies, 19 Jacques Botes, 20 Cobus Reinach, 21 Fred Zeilinga, 22 Heimar Williams.
Date: Saturday, October 26
Venue: Newlands, Cape Town
Kick-off: 17.30 (15.30 GMT)
Referee: Jonathan Kaplan
Assistant Referees: Christie du Preez, Stefan Breytenbach
TMO: Deon van Blommestein
By David Skippers