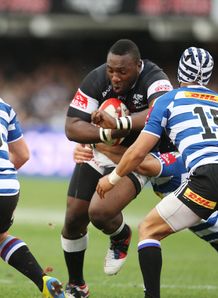 Related links
Also see
The final round of league matches is upon us and three teams are scrambling to secure the two remaining play-off spots.
That sets the stage for a weekend of thrilling action and what adds to the excitement is that two of those three sides - the Free State Cheetahs and the Blue Bulls - face each other in what is virtually a quarter-final.
All the matches will be played on Saturday and those two teams do battle in Bloemfontein directly after the Golden Lions - who are the other side in the race for the semi-finals - take on Griquas in Johannesburg.
Griquas, as the tournament's bottom-placed club are the only side who have no chance of making the play-offs. The final match of the round sees this season's two heavyweights - the Sharks and Western Province - doing battle in Durban.
The Sharks and WP are separated by a point, and although both teams have secured home semi-finals, there will be plenty at stake as the winners of this clash will host the final on October 26.
Fixtures:
Saturday, October 12
Golden Lions v Griquas
Free State Cheetahs v Blue Bulls
Sharks v Western Province
Standings:
1. Western Province 33
2. Sharks 32
3. Cheetahs 22
4. Golden Lions 21
5. Blue Bulls 17
6. Griquas 10
---
Previews:
Golden Lions v Griquas
Ellis Park Stadium, Johannesburg
The Lions will fancy their chances of claiming victory, and maximum match points, which should be enough to ensure that they finish in third position on the table.
With Griquas assured of finishing at the bottom of the table, and set to face the Pumas in the promotion/relegation play-off, their coach Pote Human is fielding a second-string starting line-up for this clash.
Human's decision to rest most of his first-choice players is a clear indication that his side's main focus is to retain their Currie Cup status and he made no secret of this.
"This game doesn't affect the fact that we will play against the Pumas in the next couple of weeks," he said.
But Ackermann is not underestimating the basement dwellers, however, and believes they will still offer formidable resistance despite leaving out most of their regular starting players.
"Some of their key players may be out but there are also players that come in that are their number-one choices like Louwrens Adriaanse, Rynard Landman and Hanru van Niekerk," he said.
"Our whole season is dependant on Saturday, so we can't underestimate their team, because we could then be in danger of taking another knock and be the joke of the year.
"We want to treat these guys like their full-strength team and we want to play to win."
Lions captain Derick Minnie said they would not leave anything to chance and the team needed a win to get a semi-final berth.
"It is important that we get the win but we won't change what we are doing," he said.
"It won't help us to do funny things now to get the victory...Griquas are always a dangerous team no matter where you play against them."
Prediction: Griquas have a mountain to climb and don't expect them to put up much of fight as they are fully focussed on next weekend's promotion/relegation clash. This paves the way for an easy Lions victory by 35 points!
The teams:
Golden Lions:15 Chrysander Botha, 14 Deon Helberg, 13 Lionel Mapoe, 12 Andries Coetzee, 11 Anthony Volmink, 10 Marnitz Boshoff, 9 Michael Bondesio, 8 Warren Whiteley, 7 Derick Minnie (c), 6 Warwick Tecklenburg, 5 Franco van der Merwe, 4 Chris van Zyl, 3 Julian Redelinghuys, 2 Willie Wepener, 1 Jacques van Rooyen.
Replacements: 16 Robbie Coetzee, 17 Bees Roux, 18 Lambert Groenewald, 19 Willie Britz, 20 Ross Cronje, 21 Lionel Cronje, 22 Kobus de Kock.
Griquas: 15 Gouws Prinsloo, 14 Luzuko Vulindlu, 13 Jean Stemmet, 12 Jonathan Francke, 11 Rocco Jansen, 10 Du Randt Gerber, 9 Jacques Coetzee, 8 Leon Karemaker, 7 Jaco Nepgen, 6 RJ Liebenberg, 5 Rory Arnold, 4 Rynard Landman, 3 Lourens Adriaanse (c), 2 Matt Dobson, 1 Janro van Niekerk.
Replacements: 16 Simon Westraadt, 17 Brummer Badenhorst, 18 Dalton Davis, 19 Patrick O'Brien, 20 Enrico Acker, 21 JP Nel, 22 Logan Basson.
Referee: Jaco Peyper
---
Free State Cheetahs v Blue Bulls
Free State Stadium, Bloemfontein
Although the Cheetahs have a five-point lead over the Bulls on the table, they know they are in for a battle against the Pretoria-based outfit.
The visitors would need a five-point victory and a winning margin of more than eight points. They would also need to prevent the Cheetahs from scoring a single bonus-point if they were to advance to the semi-finals.
"This is crunch time," said Cheetahs coach Naka Drotské.
"We've spoken amongst ourselves and we are well aware of what is on the line.
"We know that for one of us it is going to be glory and for the other goodbye. A single log point may be good enough, but we want at least four."
With his Springboks back in selection contention, Drotské chose to start with Adriaan Strauss and Coenie Oosthuizen who would partner with another Bok, Trevor Nyakane, to bolster the hosts in the scrums.
"We are happy Adriaan and Coenie are back," he added.
"With an all-Springbok front row we will definitely be out to try and dominate the scrums.
"We will put much trust in them, as well as our loose trio of Philip van der Walt, Lappies Labuschagne and Boom Prinsloo. We want to be very physical on attack as well as defence and our forwards will be the go to guys for that."
Bulls coach Pine Pienaar knows his side are up against heavy odds but are still determined to secure an unlikely victory.
"We are under a lot of pressure and need to score tries so we have decided to include a number of ball carriers for the game," Pienaar said.
"Guys like Jono Ross and Jacques Engelbrecht will have to get us over the advantage line so we can give our back line good ball to work with."
Prediction: The Bulls dominated the Cheetahs when these sides met earlier this season but that's unlikely to happen again. The Cheetahs will win a close encounter by five points!
The teams:
Cheetahs: 15 Hennie Daniller, 14 Rayno Benjamin, 13 Johann Sadie, 12 Robert Ebersohn, 11 Raymond Rhule, 10 Elgar Watts, 9 Sarel Pretorius, 8 Philip van der Walt, 7 Lappies Labuschagne, 6 Boom Prinsloo, 5 Lood de Jager, 4 Francois Uys, 3 Trevor Nyakane, 2 Adriaan Strauss, 1 Coenie Oosthuizen.
Replacements: 16 AJ le Roux, 17 Schalk van der Merwe, 18 Teboho Mohoje, 19 Freddie Ngoza, 20 Piet van Zyl, 21 Johan Goosen, 22 Willie du Plessis.
Blue Bulls: 15 Jurgen Visser, 14 Akona Ndungane, 13 JJ Engelbrecht, 12 Jan Serfontein, 11 Bjorn Basson, 10 Handre Pollard, 9 Rudy Paige, 8 Jacques Engelbrecht, 7 Jacques du Plessis, 6 Jono Ross (c), 5 David Bullbring, 4 Paul Willemse, 3 Frik Kirsten, 2 Bongi Mbonambi, 1 Marcel van der Merwe.
Replacements: 16 Bandise Maku, 17 Werner Kruger, 18 Grant Hattingh, 19 Jean Cook, 20 Lohan Jacobs, 21 Francois Venter, 22 Clayton Blommetjies.
Referee: Marius Jonker
---
Sharks v Western Province
Kings Park Stadium, Durban
Saturday's big encounter between the only two sides assured of their play-off berths should be another nail-biting affair as there's so much at stake.
The victors will strike a huge psychological blow as these sides could meet again in the final. Both teams know this and have bolstered their squads with their returning Springboks.
Sharks back-line coach Sean Everitt expects a smooth transition for the hosts' returning internationals.
They have opted to throw five of their returning Boks straight into the mix with Jannie du Plessis, Bismarck du Plessis, Tendai Mtawarira, Pieter-Steph du Toit and Marcell Coetzee all starting. A sixth South Africa player, Patrick Lambie, was on the bench, while Willem Alberts was excluded through injury.
"We had them involved at the start of our campaign, we had them all at our preparation week and they've been part of our squad when the Springboks have had their byes," Everitt said.
"They know exactly what's going on. They've always been included and have attended a lot of our games and really been a part of our team.
"I don't see continuity being a problem at all."
He was convinced it would work to the team's benefit.
"The Springbok players will try to get over the disappointment of losing to the All Blacks and try to move on and create some success with the Sharks," added Everitt.
"So our playing structures won't change now that we are getting to the business end of the competition."
WP boss Allister Coetzee has brought in Eben Etzebeth, Siya Kolisi, Duane Vermeulen and Juan De Jongh while Springbok skipper Jean de Villiers starts on the bench, after a heavy international workload.
"It's going to be one massive game, a Springbok-laden Sharks team which we have a lot of respect for," explained Coetzee.
"The Sharks side is a well-organised team this year, it's completely different to what we faced last year.
"It is important for the team that have been playing in the Currie Cup up until now to understand the intensity and the accuracy that is required this weekend," he said.
"We have spoken about Super Rugby intensity and it will be exactly that come this weekend.
"Knowing that you are in a semi-final, what better preparation can you ask for? Going to the Sharks to see where you are at that intensity before the knockout stages - we need that.
"Instead of playing your last round-robin game knowing that you will get five points and beat the side, this is really going to be a big match and we are going to be tested all over the field.
"At scrum-time, line-out time, at the breakdown, at the back with the kicking game so it is really going to be a proper match."
Prediction: This match is too close too call! Both sides will have plenty of class on display all around the park. As the home side, the Sharks could have the edge but don't be surprised if this match ends as a draw!
The teams:
Sharks: 15 SP Marais, 14 Odwa Ndungane. 13 Tim Whitehead, 12 Heimar Williams, 11 Lwazi Mvovo, 10 Fred Zeilinga, 9 Charl McLeod, 8 Keegan Daniel (c), 7 Jean Deysel, 6 Marcell Coetzee, 5 Pieter-Steph du Toit, 4 Peet Marais, 3 Jannie du Plessis, 2 Bismarck du Plessis, 1 Tendai Mtawarira.
Replacements: 16 Kyle Cooper, 17 Wiehahn Herbst. 18 Stephan Lewies, 19 Jacques Botes, 20 Cobus Reinach, 21 Pat Lambie, 22 Louis Ludik
Western Province: 15 Gio Aplon, 14 Gerhard van den Heever, 13 Juan de Jongh, 12 Damian de Allende, 11 Cheslin Kolbe, 10 Demetri Catrakilis, 9 Louis Schreuder, 8 Duane Vermeulen, 7 Siya Kolisi, 6 Deon Fourie (c), 5 De Kock Steenkamp, 4 Eben Etzebeth, 3 Pat Cilliers, 2 Scarra Ntubeni, 1 Steven Kitshoff.
Replacements: 16 Franks Malherbe, 17 Brok Harris, 18 Michael Rhodes, 19 Schalk Burger, 20 Nic Groom, 21 Kurt Coleman, 22 Jean de Villiers.
Referee: Jonathan Kaplan