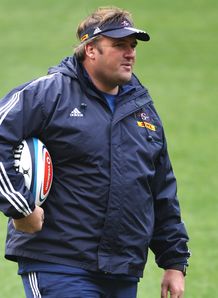 Western Province forwards coach Matthew Proudfoot has dispelled any notion of the Cheetahs being there for the taking following their big loss to the Sharks.
The side from the Free State were thrashed by the Sharks last week, providing an added incentive to come out on top in Bloemfontein on Friday.
But despite their 50-26 humbling, which incensed coach Naka Drotske, Proudfoot feels Province's rivals will not use the loss as a driving force.
"They're a professional outfit and they don't need negative motivation", the forwards coach told Rugby365.
"They want to win every game like every team. This game is an important game for them. It's crunch time in the competition for everybody, so everybody is highly motivated as this stage."
That the crucial fixture between the two sides is to be played on the Cheetahs' home turf in Bloemfontein will give the hosts a lift, argued the forwards coach. However, he cautioned that the game's location would also provide added incentive for his side - who remain unbeaten in the competition.
"They'll want to go out and put on a good performance because they're at home. They play well at home; we haven't won there this year, so it's a big motivation for both sides," he said.
Proudfoot stated that Western Province, who are set to welcome back forwards Schalk Burger and Deon Fourie, will have to nullify the threat of Cheetahs half-back pairing Sarel Pretorious and Elgar Watts, and handle the hosts' physicality up front.
"Nine-10 control the game well. We have to take care of Sarel, he's a good attacking player, and Elgar is playing well, using little kicks over the top, so they pin you back and then run on the edges and stretch you defensively," he added.
"They've got good physicality. Lood de Jager has been massive for them and Trevor Nyakane is playing well."