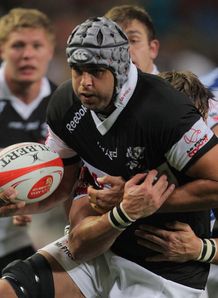 Related links
Also see
The Sharks forwards coach Brad Macleod-Henderson believes their squad rotation policy is paying off as they sit atop of the Currie Cup table.
Currently the coastal side are locked on 24 points with Western Province but are ahead of the Cape Town outfit because of a better points difference.
"There is always the risk that too many changes might have a disruptive effect," coach Macleod-Henderson said this week.
"But it's been a delicate balance to try and get it right and to give everyone a chance, while trying to maintain team dynamics and continuity.
"We wanted everyone to have an opportunity to play two games to show what they could do. It wasn't just giving them one chance to prove themselves."
The Sharks had been chopped and changed this season as new director of rugby Brendan Venter looked to expand the pool of experienced players and blood youth at the same time.
Whether it involved rotating two, three or even seven players, as was the case against the Free State Cheetahs last weekend, the on-field results had not been affected. The Sharks had won five out of seven games and were sitting on top of the standings.
"We're very blessed with the number of talented players we have and we want to make sure everyone gets a chance, so they're all fresh and can give of their best," he added.
"It's a combination of giving everyone an opportunity and building our squad and it's worked very well for us, we're very happy with it."
The rotational policy, however, will come to an end after Friday's game against the Lions.
"From next week we will select what we think is our strongest team for the run-in to the semis and final," the Sharks coach said.
There are just three regular season matches remaining, with the Durbanites edging out Western Province on points difference while the Golden Lions are lying third on 20 points.
"We want to have a home semi and, if all goes well, a home final. We've said all along, the process and the performance is what we're really looking at," Macleod-Henderson said.
"If our performances are good enough, the log will take care of itself."