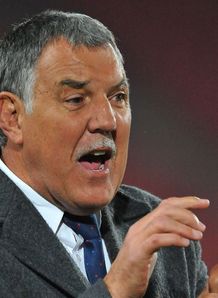 Griquas coach Pote Human has been forced to reshuffle his starting line-up for Friday's clash at Western Province.
Utility forward Carel Greeff has been ruled out for the next couple of weeks after he broke his hand in the recent home game against the Sharks.
Human has to also make do without full-back PJ Vermeulen and lock Victor Kruger, who both broke an ankle against the Sharks in Kimberley.
Other players on the growing injury list include locks Ligtoring Landman, Jonathan Adendorf, Hilton Lobberts, and prop Janro van Niekerk.
"We just can't get ahead with regards to injuries," Human said.
"Whenever one player returns, another gets injured.
"Carel had a little discomfort from his hand after the Sharks game and we thought it only to be bruised. But when he experienced real pain on Monday we sent him for X-rays, which confirmed he broke a small bone in his hand. It is another huge blow for us."
Greeff has been replaced by another player who has returned from injury, number eight Leon Karemaker. Jaco Nepgen, who has proved his fitness after a shoulder injury, was included in the run-on side at lock.
"We have lost a lot of players to injury, but I am glad that both Leon and Jaco are available," added Human.
"They will bring some much needed experience to the team and at this stage we need everything we can get."
Youngster Gouws Prinsloo was selected in place of the injured Vermeulen at full-back, while centre Jean Stemmet comes in for JP Nel, who is struggling with a knee injury.
Scrum-half Marnus Schoeman was relegated to the bench, with Jacques Coetzee starting against the Cape Town-based outfit.
Griquas: 15 Gouws Prinsloo, 14 Nico Scheepers, 13 Jean Stemmet, 12 Howard Mnisi, 11 Rocco Jansen, 10 Francois Brummer, 9 Jacques Coetzee, 8 Leon Karemaker, 7 Burger Schoeman, 6 Marnus Schoeman, 5 Jaco Nepgen, 4 Rory Arnold, 3 Nick Schonert, 2 Ryno Barnes (c), 1 Steph Roberts.
Replacements: 16 Matt Dobson, 17 Brummer Badenhorst, 18 Patrick O'Brien, 19 RJ Liebenberg, 20 Marnus Hugo, 21 Du Randt Gerber, 22 Richard Lawson.
Date: Friday, September 20
Kick-off: 19:10 local (18:10 BST)
Venue: Newlands Stadium, Cape Town
Referee: Lourens van der Merwe
Assistant referees: Jonathan Kaplan, Marc van Zyl
Television match official: Shaun Veldsman