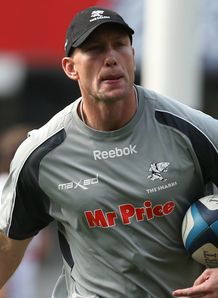 Sharks coach Brad Macleod-Henderson expects a backlash from the Blue Bulls when the two sides meet in their Currie Cup clash at Kings Park in Durban on Saturday.
The Pretoria-based side were hammered 62-23 by the Golden Lions at Loftus Versfeld last weekend, to sink to the foot of the competition table after three rounds of action.
"That result last week took everyone by surprise," Macleod-Henderson said.
"I'm certain they're going to come straight back from that by coming out firing this weekend.
"They're a proud union and quality outfit, so I expect a very tough game come Saturday."
Like the Bulls, the hosts have also had their fair share of embarrassment since the start of the season. It came in their round-one fixture when they were stunned 32-30 at home by Griquas.
They have since recovered admirably, though, winning successive games against the Lions and Free State Cheetahs to sit second behind Western Province.
And they will now be aiming for further progress as the competition takes shape.
"We're trying not to focus on the log too much, we really just want to look at our performances," Macleod-Henderson explained.
"If we get that right, the results take care of themselves.
"This is obviously a big game and with the Bulls having slipped up they will want to right that result. We have some momentum and we want to continue with that."
The Sharks made three changes to their run-on XV for the game, the most notable seeing veteran back Odwa Ndungane return from a hamstring injury to play on the wing.
Macleod-Henderson, who is only finding his feet after coming in under a new Brendan Venter-led coaching team last month, insisted his team was still a work in progress.
"We're growing as a team and the important thing is that every week we keep on improving and getting better as a team," he added.
"Individually, we want to make sure the players are growing and developing, so those are the most important things.
"You're also trying to find the ultimate game, which I don't think you will really achieve, but it's something to aim for."