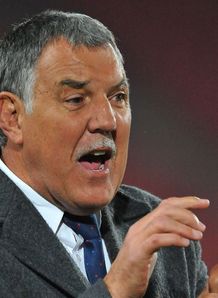 Griquas coach Pote Human has included young club player Patrick O'Brien in his squad for Saturday's clash with the Free State Cheetahs in Bloemfontein.
"Patrick has just joined us this week, but he looked very good in practice," Human said on Wednesday.
"With our lock-problems we had no other option than to include him on the bench."
The Peacock Blues faced a crisis at lock following injuries to stalwarts like Rynard Landman, Jaco Nepgen and Jonathan Adendorf.
O'Brien, who plays his club rugby for Helderberg in Cape Town, will bolster Griquas in this position.
Landman broke his thumb in the first game against the Sharks in Durban, while Nepgen re-injured his shoulder against Western Province last weekend.
Adendorf was recovering in hospital after he got stabbed in a mugging after the Province game.
"We are hoping to give him (O'Brien) a chance and look forward to what he can bring," Human said.
"From what we hear he is one of the better club players. Now he needs to make the step up from club to Currie Cup level."
Australian newcomer Rory Arnold will partner former Springbok flanker Hilton Lobberts in the second row.
With no other recognised lock remaining, Human invited O'Brien to spend a trial period with Griquas.
Griquas welcomed back flanker Marnus Schoeman, who fully recovered from a hamstring injury and will play off the bench.
Carel Greeff convincingly covered for Schoeman and, Human admitted there was fierce competition in the side and particularly at flank.
"It is always good when the guys push each other to be the very best," the coach added.
"Carel had done very good work as a ball fetcher and we are happy with his progress."
That being said, Marnus will add a lot from the bench in a game you can almost be certain will be won or lost amongst the forwards," Human said.
Griquas: 15 PJ Vermeulen, 14 Nico Scheepers, 13 JP Nel, 12 Howard Mnisi, 11 Rocco Jansen, 10 Francois Brummer, 9 Marnus Hugo, 8 Leon Karemaker, 7 Burger Schoeman, 6 Carel Greeff, 5 Rory Arnold, 4 Hilton Lobberts, 3 Nick Schonert, 2 Ryno Barnes (c), 1 Steph Roberts.
Replacements: 16 Matt Dobson, 17 Brummer Badenhorst, 18 Patrick O'Brien, 19 Marnus Schoeman, 20 Jacques Coetzee, 21 Du Randt Gerber, 22 Richard Lawson.
Date: Saturday, August 31
Kick-off: 15:00 (13:00 GMT)
Venue: Free State Stadium, Bloemfontein
Referee: Craig Joubert
Assistant referees: Rasta Rasivhenge, Francois de Bruin
Television match official: Gerrie Coetzee