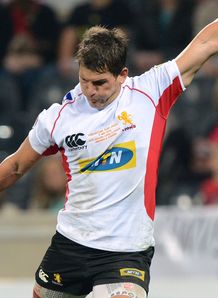 Lions coach Johan Ackermann admits that he made a tactical mistake in bringing off fly-half Marnitz Boshoff against the Cheetahs on Saturday.
The starting number ten - who had been deadly accurate with the boot - was replaced by Elton Jantjies heading into the final quarter of the match and the replacement proceed to miss a conversion ten minutes from time that would have put his side in the lead. Instead, the Lions were forced to contend with a disappointing 29-30 defeat to open their Currie Cup campaign.
On reflection, Ackermann concedes that the replacements did not work out as he would have liked.
"I made the mistake to take the wrong man off the field," Ackermann told the Beeld.
"We decided beforehand that should Elton come on, then we'll shift Marnitz to fullback and take Chrysander Botha off.
"With everything going on there was confusion and before I could realise what was going on, Marnitz was already off the field.
"It was important for us to have Marnitz's (kicking) boot on the field until the end."