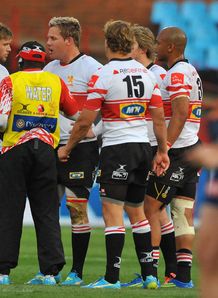 Related links
Also see
Golden Lions interim coach Johan Ackermann believes the tries his side scored either side of half-time were key to victory over the Blue Bulls.
Deon Helberg and Alwyn Hollenbach scored in quick succession of each half as the Lions claimed a 32-23 Currie Cup success at Loftus.
There was somewhat of a stalemate up until minutes before the break when the Lions scored their first try of the match to launch them in front.
"I think the try just before half-time gave the guys some confidence and luckily we were able to take it through to the second half," said the boss.
"The backline was good but the forwards laid a good foundation from there."
Ackermann said while his charges started out shakily they pulled through for a victory he was happy about no matter the venue.
"I had a good feeling after I spoke to the guys before the match and I could feel that they looked mentally better than last week and the attitude was right," he said.
"But I also knew both sides were with their backs against the wall and it would be tough, especially that first 20 minutes."
Their victory saw the Lions move into the second position in the standings on 15 points at the halfway mark, but the positions have proven to constantly change.
"This competition is so equal, week after week you have to perform well and if you are just a little bit off your game you are going to make it hard for yourself," Ackermann said.
This reality seemed to have hit Blue Bulls coach Pine Pienaar like a ton of bricks as he admitted that the pressure was now on his side, who dropped to last spot on the table.
"One knows you are under massive pressure and we've lost two matches consecutively and we are last on the log," Pienaar said.
"The reality is you have five games left and you will have to win all five of them otherwise you are not going to make it."
Pienaar said his side let themselves down defensively and through the amount of unforced errors they made.
"What cost us was that try just before half-time and just after the break and from thereon you are in a position where you are chasing the game," he said.
"If you are chasing you are forcing passes and overturn possession.
"I thought we played good rugby at times and did the right things but once again we played against ourselves and made too many mistakes."
The Bulls mentor was scathing of some individuals' defensive efforts and added that he would have make employ some measures to remedy the problem.
"You can put guys there in a channel and you expect them and want them to make the tackle," Pienaar said.
"If they can't make the tackle the whole side is under pressure.
"This week we came up short with that and it is something we will have to have a look at and maybe there are other guys that can tackle."