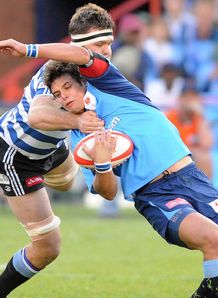 Related links
Also see
After last week's action each team has now suffered a loss and there's only three points between the top five teams on the table.
This weekend's big match-up takes place in Cape Town on Saturday, where Western Province host the Blue Bulls in a fixture which usually delivers plenty of drama and excitement.
WP lost through virtually the last kick of the match against the Golden Lions in Johannesburg last week and know anything less than a win will not satisfy their supporters while the Bulls are on a high after ending the Sharks' unbeaten run in Pretoria.
The Golden Lions will be buoyed by their victory over WP and they get the weekend's programme underway when they host bottom-placed Griquas in Jo'burg on Friday.
After last week's 42-31 loss in Pretoria, the Sharks will try return to winning ways when they host the Cheetahs in Durban in Saturday's other clash.
Fixtures:
Friday, 31 August
Golden Lions v Griquas
Saturday, 1 September
Sharks v Free State Cheetahs
Western Province v Blue Bulls
Standings:
1. Golden Lions 9
2. Sharks 9
3. Free State Cheetahs 9
4. Blue Bulls 8
5. Western Province 6
6. Griquas 1
---
Previews:
Golden Lions v Griquas
Coca-Cola Park Stadium, Johannesburg
The Lions will be favourites to beat Griquas, who are yet to register a win this season.
But despite playing on their own turf, the tournament's defending champions are not underestimating their opponents.
"They are a quality side that can beat anyone on any day," said the Lions' caretaker coach Johan Ackermann.
"Yes, they have lost three in a row, but they were sitting pretty till half-time in all their encounters and just couldn't close out.
"They are always a dangerous outfit, no matter what."
Griquas coach Pote Human is aware that his side need a victory to relieve some of the pressure on them.
"We know that it is crunch time," he said.
"There is already talk of a promotion and relegation match, but we choose to focus on the job at hand.
"The last couple of games we fell into a slump after half-time.
"We can ill-afford that against the Lions. We need to be in the driver's seat from the get go and stay there for the full 80 minutes."
Despite their recent failures, Human believed Griquas had been solid in their set pieces.
"We are happy with where we are with regards to our scrums and line-outs," he said.
"They do give us solid platforms to attack from, but the main thing is we need to play the full 80 minutes.
"If not, it is going to be a long and difficult evening."
Prediction:The Lions have too much ammunition and should win this match easily.Lions to win by 12 points!
The teams:
Golden Lions: 15 Andries Coetzee, 14 JR Esterhuizen, 13 Lionel Mapoe, 12 Butch James, 11 Anthony Volmink, 10 Elton Jantjies, 9 Ross Cronje, 8 Warren Whiteley, 7 Willie Britz, 6 Jaco Kriel, 5 Franco van der Merwe, 4 Joshua Strauss, 3 CJ Van der Linde, 2 Bandise Maku, 1 JC Janse van Rensburg (capt).
Replacements: 16 Martin Bezuidenhout, 17 Ruan Dreyer, 18 Michael Rhodes, 19 Cobus Grobbelaar, 20 Michael Bondesio, 21 Alwyn Hollenbach, 22 Deon Helberg.
Griquas: 15 Willie le Roux, 14 Jannie Boshoff, 13 Jean Stemmet, 12 Walter Venter, 11 Rocco Jansen, 10 Francois Brummer, 9 Marnus Hugo, 8 Leon Karemaker, 7 Wesley Wilkins, 6 Marnus Schoeman, 5 Martin Muller, 4 Rynhardt Landman, 3 Lourens Adriaanse, 2 Ryno Barnes (captain), 1 Steph Roberts.
Replacements: 16 Matthew Dobson, 17 Ivann Espag, 18 Frikkie Spies, 19 Justin Downey, 20 Jacques Coetzee, 21 Marnitz Boshoff, 22 Matthew Rosslee.
Kick-off:19:10 (18:10 GMT, 17:10 GMT)
Referee: Craig Joubert
---
Sharks v Free State Cheetahs
Kings Park Stadium, Durban
The Sharks are smarting after they lost their unbeaten record against the Blue Bulls in Pretoria in round three and will be keen to bounce back immediately in front of their home fans this weekend.
Coach John Plumtree was hoping to field Patrick Lambie and Craig Burden for this fixture since they were not utilised during the Springboks' two Rugby Championship clashes with Argentina.
But both players were included in national coach Heyneke Meyer's 28-man squad for the upcoming tour to Australasia.
Plumtree preferred not to dwell on that setback and is focussed on registering a win on the Bloemfontein outfit.
"Both sides have suffered player losses, through injury and Springbok call-ups, but we know what the Currie Cup is all about," he said.
"It's a test of depth and it should be a really good game.
"I don't think there is a lot between the two teams. It will come down to the side that wants it more on the weekend."
The Cheetahs will be keen to build on their win over Griquas in Kimberley after they dominated the second half of that clash. Captain and outside centre Robert Ebersohn is their dangerman amongst the backs while their loose forward combination of Kabamba Floors, Pieter Labuschagne and Frans Viljoen will be expected to give them attacking momentum up front.
Prediction:The Cheetahs could be on the end of a backlash after the Sharks' slip-up in Pretoria last week.Sharks by eight points
The teams:
The Sharks:15 Louis Ludik, 14 Odwa Ndungane, 13 Paul Jordaan, 12 Meyer Bosman, 11 S'bura Sithole, 10 Riaan Viljoen, 9 Charl McLeod, 8 Keegan Daniel, 7 Jean Deysel (c) 6 Jacques Botes, 5 Anton Bresler, 4 Steven Sykes, 3 Wiehahn Herbst, 2 Monde Hadebe, 1 Dale Chadwick.
Replacements: 16 Pieter Dixon, 17 Julian Redelinghuys, 18 Jandre Marais, 19 Francois Kleinhans, 20 Cobus Reinach, 21 Marius Joubert, 22 Rosko Specman.
Free State Cheetahs: 15 Hennie Daniller, 14 Nico Scheepers, 13 Robert Ebersohn (c), 12 Barry Geel, 11 Raymond Rhule, 10 Sias Ebersohn, 9 Sarel Pretorius, 8 Kabamba Floors, 7 Pieter Labuschagne, 6 Frans Viljoen, 5 Izak van der Westhuizen, 4 Andries Ferreira, 3 Marcel van der Merwe, 2 Hercu Liebenberg, 1 Schalk van der Merwe.
Replacements: 16 Elandré Huggett, 17 Ross Geldenhuys, 18 Waltie Vermeulen, 19 Davon Raubenheimer, 20 Tewis de Bruyn, 21 Phillip Snyman, 22 Ryno Benjamin.
Kick-off:17:05 (16:05 BST, 15:05 GMT)
Referee: Rasta Rasivhenge
---
Western Province v Blue Bulls
Newlands Stadium, Cape Town
Western Province coach Allister Coetzee knows his side will have to put in a top class performance against the Blue Bulls when South Africa's most successful provincial unions do battle.
Coetzee will be without the services of hard-working flanker Siya Kolisi who sustained a season-ending injury in the loss to the Lions.
WP will also be minus stalwarts Duane Vermeulen and Juan de Jongh who have been called up for national duty.
"It is always a big blow to have these quality players being called-up, but we do always aim to produce Springbok players amongst us," said Coetzee.
"It is a little disruptive in planning for the game ahead as they are here one minute and then gone the next, but we have to be good enough to prepare against a quality side like the Blue Bulls."
Coetzee is under no illusions about the task that is awaiting his charges.
"We know that any stage we have to perform well against a Blue Bulls side on any given day, but I back my players and know we have what it takes to beat them," Coetzee said.
"This is a very important game and it's a home game for us, so we need to play a lot better than we did last week and I'm sure we're going to do that."
Keep an eye on Blue Bulls fly-half Louis Fouchè, who put in a faultless goal-kicking display against the Sharks last week. Fouchè added 27 points via his boot and if WP want to win this clash they must try to avoid conceding needless penalties within his range.
Prediction:This looks like it will be the most evenly contested match of the weekend but theBlue Bulls will sneak it by three points.
The teams:
Western Province: 15 Gio Aplon, 14 Gerhard van den Heever, 13 JP du Plessis, 12 Marcel Brache, 11 Ederies Arendse, 10 Demetri Catrakilis, 9 Dewaldt Duvenage, 8 Jebb Sinclair, 7 Rynhardt Elstadt, 6 Deon Fourie (c), 5 De Kock Steenkamp, 4 Don Armand, 3 Frans Malherbe, 2 Siyabonga Ntubeni, 1 Deon Carstens.
Replacements: 16 Steven Kitshoff, 17 Brok Harris, 18 Wilhelm van der Sluys, 19 Helmut Lehmann, 20 Nic Groom, 21 Damian de Allende, 22 Kurt Coleman.
Blue Bulls: 15 Clayton Blommetjies, 14 Akona Ndungane, 13 Johann Sadie, 12 Francois Venter, 11 JJ Engelbrecht, 10 Louis Fouchè, 9 Ruan Snyman, 8 Dewald Potgieter (c), 7 CJ Stander, 6 Deon Stegmann, 5 Grant Hattingh, 4 Wilhelm Steenkamp, 3 Werner Kruger, 2 Willie Wepener, 1 Dawie Steyn.
Replacements: 16 Robbie Coetzee, 17 Frik Kirsten, 18 Cornell Hess, 19 Warwick Tecklenburg, 20 Rudy Paige, 21 Lionel Cronje, 22 Jürgen Visser.
Kick-off:19:10 (18:10 BST, 17:10 GMT)
Referee: Lourens van der Merwe