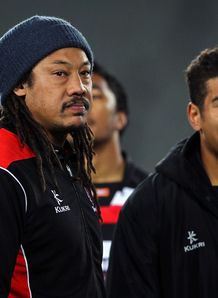 Former All Black captain Tana Umaga has decided his coaching future lies in South Auckland by re-signing with the current Ranfurly Shield holders Counties Manukau until 2016.
Umaga is happy to extend his contract as the Head Coach of the Counties Manukau Steelers.
"There is still a lot I want to achieve at this Union. I thoroughly enjoy the environment, the people and the culture we have at Counties," said Umaga.
"Counties Manukau is well known for the talent pool it produces and I take great pride in the challenge of developing young players so they can go on to higher honours."
Counties Manukau CEO Andrew Maddock is pleased to have retained the services of the dynamic coach.
"Tana is hugely respected by our players and our supporters. He has the ability to get the best out of the players and those around him," said Maddock.
"It also offers us continuity and allows Tana to keep building on the good work he has already done."