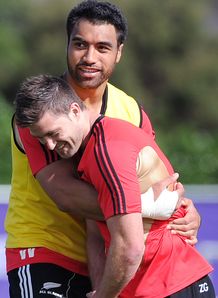 Related links
Teams
All Black Cory Jane is relishing the chance to reach the heights he scaled prior to his knee ligament injury back in January.
The outside back returns to action for the first time since tearing three ligaments in his knee to win a place on the Wellington Lions reserves bench for their fixture against Auckland at Westpac Stadium on Saturday.
The 30-year-old can't wait to get back among the action after a long eight month lay-off, and feels he is more than ready to return to the fray.
"I might not set the world on fire, but I'm hoping to. I'm not just wanting to go out and say: 'great I made a comeback'. I want to go out and do what I've done in the past," he told Fairfax NZ News.
Jane's confidence is built upon the bedrock of a scrupulous rehabilitation programme, that commenced just three days after the injury.
"I did two months of rehab before surgery to fix my medial cruciate ligament and walked into the physio's room before surgery because I'd done the ground work," he said.
"Every day I did physio, every day I did rehab, I haven't taken days off, I haven't got on the piss or taken a few weeks off.
"I've done everything I was supposed to. I was meant to come back next year, so to be back now is pretty good."
The All Black worked with physio Cam Shaw and strength and conditioning coach Paul Downes keeping close supervision over his progress. The moment of truth arrived a fortnight ago, as Jane underwent fitness testing. A brace of full-contact sessions fulfilled his recovery, and the outside back was keen to ensure his team-mates didn't hold back.
"I was telling Victor [Vito] to come at me, I was flying in because I wanted to test the leg. They were a bit scared, they were saying 'we'll tackle you high', but I said: 'I'm playing this weekend, I need to know if I can handle it'," said Jane.
Though Jane's primary aim has been to simply get back playing, he admits New Zealand's November tour has been on his mind.
"Based on ITM Cup [form] hopefully I can make the end-of-year tour, but I don't want to just make it and go and hold bags and be an All Black on tour. I'd want to go over and play," he said.