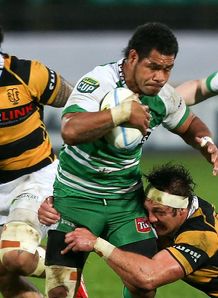 Manawatu made heavy work of a 12-6 ITM Cup victory over Taranaki in poor conditions at FMG Stadium on Saturday.
Manawatu led 6-3 at half-time thanks to two penalties from fly-half Jade Te Rure. But the lead could have been much bigger since, despite a significant tail wind, the hosts were only able to convert two of the five kickable penalties.
Taranaki Andre Taylor centre kicked a solitary penalty in the first half as poor handling robbed the match of any real excitement.
With the wind at his back in the second half, Taylor levelled the scores from long range just before the hour mark only to see Te Rure reply almost immdiately put the hosts back in front.
Te Rure fished the job with a late penalty to secure a hard-fought win.
The scorers:
For Manawatu:
Pens: Te Rure 4
For Taranaki:
Pens: Taylor 2
Manawatu: 15 Lewis Marshall, 14 Leroy Van Dam, 13 Hamish Northcott, 12 Tevita Taufui, 11 Newton Tudreu, 10 Jade Te Rure, 9 Papa Wharewera, 8 James Oliver, 7 Callum Gibbins, 6 Heiden Bedwell, 5 Michael Fitzgerald, 4 Fraser Stone, 3 Ma'afu Fia, 2 Rob Foreman, 1 Chris Eves.
Replacements: 16 Bryn Templeman, 17 Jared Brock, 18 Dan Squire, 19 Nick Crosswell, 20 Nic Stirzaker, 21 Nathan George, 22 Nico Malo.
Taranaki: 15 Kurt Baker, 14 Jackson Ormond, 13 Andre Taylor, 12 Isaia Tuifua, 11 Seta Tamanivalu, 10 Beaudein Waaka, 9 Jamison Gibson-Park, 8 Blade Thomson, 7 Doug Tietjens, 6 Mitchell Crosswell, 5 James Broadhurst, 4 Kane Barrett, 3 Ryan Cocker, 2 Rhys Marshall, 1 Carl Carmichael.
Replacements: 16 Abe Haira, 17 Sione Lea, 18 Nemia Soqeta, 19 Mitchell Brown, 20 Chris Smylie, 21 Daniel Brooks, 22 Waisake Naholo,