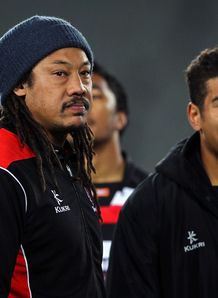 Related links
Teams
The New Zealand Rugby Union rejected suggestions that former All Blacks captain Tana Umaga escaped serious punishment on a misconduct charge because of his standing in the game.
Umaga, who is now the coach of Counties-Manukau, received a suspended two-match ban for making "insulting comments" to match officials including referee Glen Jackson after his side lost their ITM Cup clash to Auckland earlier this month.
He also suggested to reporters after the game that Jackson only refereed one side during the contest.
In his ruling, judicial officer Chris Morris said the ban would take effect only if Umaga was found guilty of similar misconduct again during the rest of this year's competition.
Despite the apparent lightness of the penalty, NZRU chief executive Steve Tew denied any suggestion that Umaga had been treated leniently.
"I refute that," he told Fairfax Media.
"We have an independent process. We appointed a very experienced panel.
"They've heard all the facts and taken into account all the mitigating factors and I respect the decision they've made. For anybody to make that comment without knowing all of the facts is a little naive.
"There is no truth to that. We've dealt with it as we would with anybody. If that was the case, why would he have been charged?"
In a statement released by Counties-Manukau after the hearing Umaga expressed remorse at what happened.
"I value my role as a coach and a leader and have learned from this situation," the statement read.
"It is important that I learn quickly from my mistakes to improve and develop as a coach."
By comparison to Umaga's suspended two-match ban, England hooker Dylan Hartley was banned for 11 weeks this year when he called referee Wayne Barnes a cheat.
In May, Super Rugby side the Stormers were fined Aus$25,000 (US$24,700) for insulting and offensive conduct towards match officials.
However, when former All Blacks coach Graham Henry called a referee "blind" during a Super Rugby match this year his penalty was to make a public apology.