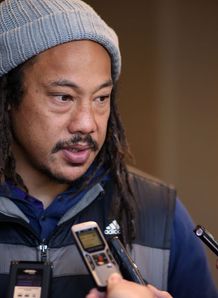 Related links
Also see
The New Zealand Rugby Union has initiated a misconduct process against Counties Manukau head coach Tana Umaga.
The former All Blacks captain will have to explain to the NZRU an ''alleged discussion'' he had with the match officials after the Steelers' 22-20 loss to Auckland at Eden Park on September 4.
Media comments made by Umaga after the match will also be examined. Umaga criticised referee Glen Jackson for the way he had interacted with his captain Fritz Lee and suggested calls had gone against his side.
NZRU general manager professional rugby Neil Sorensen said via a statement the first step was to holding a meeting with Umaga and his representatives once all parties could agree on a date.
"It's pretty important that we let Tana and others involved have a fair opportunity to make their submissions and for that reason we won't be commenting further until the process is concluded," Sorensen said.
Umaga has apologised on at least two occasions for his comments via the media. He expressed regret for letting his emotions get the better of him.